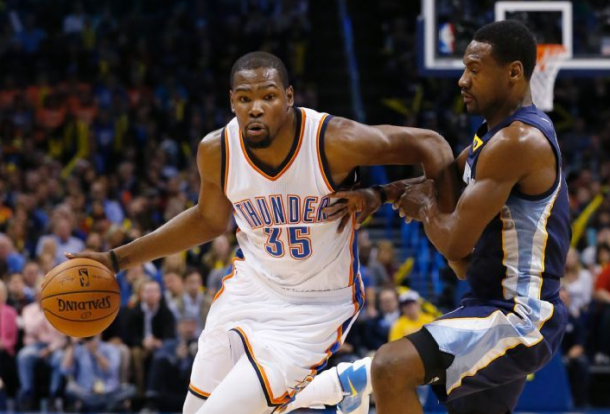 This was one of those games where if you were watching without a scoreboard you would think the Oklahoma City Thunder were up 15, but it was only a four-point game in the second quarter. However, the Thunder then exploded and ended the half on a 21-6 run.
The Grizzlies usually find a way to wear you down and get points by any means necessary, but not tonight. The Thunder was trying to send a message. The energy was very good early. Westbrook was attacking the rim early and often, and as great as the Grizzlies defense is, they don't really have anyone that can remotely stay in front of him. He finished with 24 points, nine rebounds, and nine assists on 4 of 15 shooting. Russell is in straight playoff mode already and it has been fun to watch.
Reggie Jackson, the Memphis killer, didn't have eye popping stats, his 4 of 6 shooting on eight points, three rebounds, and three assists was solid. Reggie generated 14 points with his play. That's exactly what you want him to do off the bench.
The general consensus was that the Thunder would trade Reggie Jackson by the trade deadline, but quietly he's had himself some nice games recently. The Thunder would have to get a fairly decent return because when other guys are having an off night, Jackson still shows his value as a scorer and creator. At this point, with the team starting to gel, don't mess with it, just keep Jackson, keep everyone else, and roll the dice to see what happens.
Also of note, Nick Collison had a terrific game, putting in 15 points and nine rebounds on 6 of 12 shooting. In terms of effort, Collison and Westbrook are the two guys that give you as much as they have every night. Collison showed tonight that he was deserving of his new contract extension, because he sets enough screens and takes enough charges to earn it.
Welcome to the NBA Mitch McGary. He fouled out and grabbed two rebounds, but he wasn't terrible in his 15 minutes. He went up against the best frontline in the NBA and gained good experience.
Dion Waiters left the game early after having a pretty nice game. He was 5 of 9 for 11 points, but then rolled his ankle. It didn't look too awful, and with eight days off, he shouldn't have to miss much time.
Speaking of, Kevin Durant looked a little off tonight in terms of his movement. He was 9 of 15 for 26 points and also grabbed 10 rebounds, but he looked to be favoring his right leg. He probably wouldn't have remained in the game if it was severe, but that is something to be aware of. It would not be the least bit surprising if he sat out the All Star game to rest. It'll be interesting to see what he decides to do.
As for the Thunder as a whole, that may be the best win of the season. If anything, it showed they are more than capable of competing, not only for a playoff spot, but also a championship. This team is still real good.
Memphis came in after playing Brooklyn last night and was completely blitzed. They never really had a chance after the second quarter closed the way it did. Memphis still has a decent shot at chasing home court throughout the playoffs, but expect them to be more concerned about health down the stretch.
The Thunder will head to the break at 28-25, one game up on the New Orleans Pelicans and a half game behind the Phoenix Suns. OKC will open back up with Dallas on Thursday in Oklahoma City.
We're entering the last leg of this marathon, with 29 more games to go.