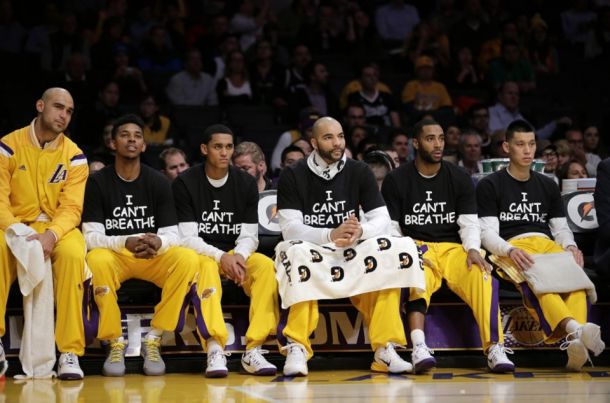 With the Los Angeles Lakers coming into the season with very low expectations, their 13-40 record is not overly shocking. The team has been dismantled by injuries all season long which has led to inconsistent play, lack of execution on both ends of the floor, and has left Coach Byron Scott with limited talent to work with.
Injuries haunted the Lakers all of last season, and it has been the same story this season. Ryan Kelly has missed significant time with nagging hamstring injuries. Steve Nash hurt his back before the start of the season and is out for the year. Xavier Henry tore his Achilles' tendon early in the season and was waived. Even their lottery pick Julius Randle was only able to notch one game before breaking his leg and sitting out the remainder of the season.
The injuries didn't stop there. Nick Young broke his thumb in practice before the season and did not play the first 10 games. He has also been bothered by minor ankle issues. Currently, Jordan Hill is sidelined by a hip injury, but the one that has been the cherry on top for the Lakers' season was Kobe Bryant's season-ending shoulder injury.
All these different players going down with injuries have translated into inconsistency on the floor. With Byron Scott having to change his lineups and switch his substitution patterns, the Lakers never found a consistent rhythm.
The Lakers did not get their first win of the season until the sixth game. From there, they grasped a handful of quality wins against teams such as the Houston Rockets, San Antonio Spurs, Golden State Warriors, Atlanta Hawks, Chicago Bulls, and Toronto Raptors. In each of those wins, the team looked superb, as if they were about to turn things around, but it never happened.
Following almost all those quality wins were horrific losses to sub-.500 teams. The Lakers would go from terrific ball movement and offensive execution in one game, to atrocious defensive effort and energy along with a stagnant offense the next game.
Speaking of their defense, the Lakers have been dreadful on that end of the floor all season long. The continued theme of their defense has been uncontested jumpers and easy, wide open layups in the paint.
Their lack of effort on defense has them ranked last in the league in opponent points per game allowing 106.2 points, 29th in opponent field goal percentage allowing 46.8 percent, and 28th in opponent three-point field goal percentage allowing 37.0 percent. In addition, the Lakers are second to last in defensive efficiency at 108.4.
On offense, the Lakers are 20th in the league in points per game and are 27th in field goal percentage, shooting 43.1 percent. Their inefficiency comes from lack of ball movement and man movement. They rank 22nd in assists, averaging just 20.6. The Lakers' effective field goal percentage is 47.1 percent which ranks 27th, and they are also ranked 22nd in offensive efficiency.
The only bright spot to the Lakers' season has been their bench play, which ranks fifth in the league at 39.9 points per game. Otherwise, this has been a miserable first half of the season, and it looks to continue after the All-Star break.
The Lakers are left with limited talent on their squad due to injuries. They currently have a starting lineup consisting of Jordan Clarkson, Wayne Ellington, Ryan Kelly, Tarik Black, and Robert Sacre. Granted Byron Scott wants to allow his young guys to play heavy minutes to grow. However, who would have guessed that a few years after Los Angeles' glory days they would have a starting unit consisting of two rookies and three other players with a combined eight years of experience?
It is safe to say that the 2014-2015 Los Angeles Lakers are well on their way to record the worst winning percentage in franchise history.