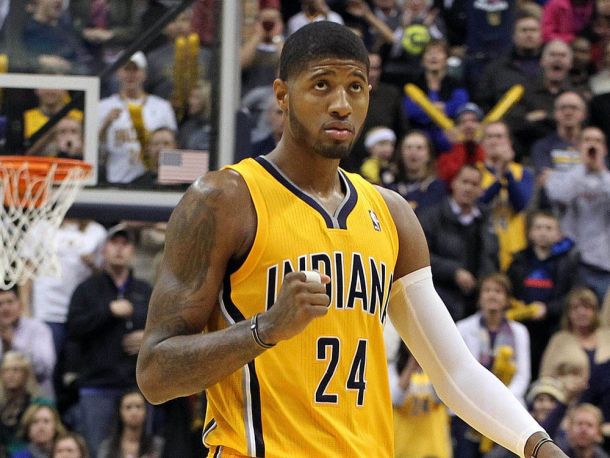 Indiana Pacers star Paul George is eyeing a mid-March return that could come as early as March 14th when his team goes up against the Boston Celtics, according to Marc J. Spears of Yahoo Sports.
In an interview with Yahoo Sports at an event for New Era, George said, "March 1 isn't when I wanted to play my first game, but when I wanted to be full-out practicing, doing up-and-down full court without any restrictions or limitations.
"From there on, it's seeing how far I can progress to where I play my first game. My hope is it's an opponent I feel comfortable coming back to where there isn't too much pressure to perform, where I can ease my way back in. But I want to say around mid-March, I could probably come back around that time," George added.
About a couple weeks ago, Pacers President Larry Bird told reporters that if Paul George would like to come back and play this season, then the team would not be against it. Indiana has hope that it can make it to the playoffs in an inferior Eastern Conference, as they are currently two games out of the eighth seed.
"It seems like every week Paul is getting better and better," Bird said earlier in the month. "So if we do have an opportunity to get into the playoffs and [George] can get some games under his belt and get ready to go next year…I always say if a player is ready to play, they gotta play.
"We're not going to hold him back if he's able to go out there and play. When you're out like that you lose something…I still think it's important if he's able to play, he should be out there," Bird continued.
Paul George suffered a gruesome leg injury during a Team USA scrimmage. He was deemed to be out for the entire season but has surprisingly made a quick recovery.
Last season, George led the Pacers to the best record in the East, averaging 21.7 points, 6.8 rebounds, 3.5 assists, and 1.9 steals. His return could possibly pull the Pacers to the playoffs and guarantee them a first-round matchup against the Atlanta Hawks, who played Indiana in the first round of the playoffs last season.
At this time, George is still without an exact timetable, but his return could change the outcome of the Eastern Conference standings.