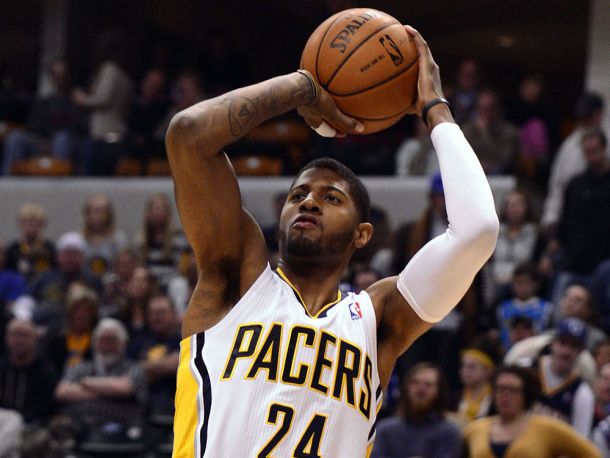 After eight months of rehabbing from a gruesome leg injury, Paul George will make his return to the basketball court on Easter Sunday at home against the Miami Heat.
"Game shoes! Time to get some burn Sunday night!!! Can't wait!!!" George posted on his Twitter along with an image of a pair of shoes.
The Indiana Pacers were always optimistic that George would make his return late in the season. They actually anticipated the All-Star to return mid-March, but Larry Bird believed George wasn't ready for game action yet.
The Pacers are currently a game and a half out of the eighth and final playoff spot in the Eastern Conference. They hope that Paul George could boost their chances of making the playoffs as the season winds down.
"The recovery has been a long process and this is another step in the process," said George. "I thank everyone, my family, friends, doctors, our training staff, coaches, the entire Pacers' family for their support and encouragement. I'm excited, but at the same time I'm aware I'm still in a rehab stage and will continue to work to get back to full strength."
Upon his return to the court, George will see limited minutes. Adding George will give the Pacers a potent scorer with the ability to defend and play make. With George returning, Chris Copeland will head to the inactive list, according to Candace Buckner of the IndyStarSports.
"We're happy to have Paul back in uniform, and this is just another step in his rehabilitation from the injury," said Larry Bird. "He has worked hard to get to this point and still has work to do, but it's a positive step toward what we hope will be a full recovery at some point. His minutes will be limited in games he plays as we evaluate his progress moving forward."
Last season, George averaged 21.7 points, 6.8 rebounds, 3.5 assists, and 1.9 steals in 80 games played, as he led the Indiana Pacers to the best record in the Eastern Conference.
"He's fully healthy, I don't expect 100% of his explosiveness until next year though," head coach Frank Vogel said. "We considered a March 1 return, but Larry had final say and wasn't comfortable yet. Him being out there is a home run. Him getting back is a great story," Vogel added.
It certainly is encouraging to see Paul George return to the floor after suffering a broken leg during a Team USA scrimmage. Many believed he would be shut down for the season, but George felt ready and did not want to wait the summer before returning.
"I probably won't be able to sleep tonight. Excited to make this hurdle," George said. "It's like a big burden has been lifted, but this is just part of the rehab. It's about getting my feet wet."
With six games remaining, the Pacers will face the Heat, New York Knicks, Detroit Pistons, Oklahoma City Thunder, Washington Wizards, and Memphis Grizzlies.
"I'm confident I can go out there and make plays."