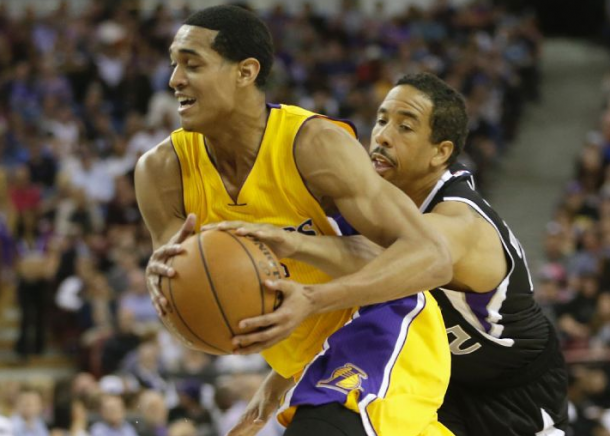 The Los Angeles Lakers are a historic franchise. But tonight, they were on the wrong end of history, recording their 60th loss of the season for the first time in their 68-year existence.
In an evenly matched, back-and-forth game, the Sacramento Kings pulled away very late to take down the Los Angeles Lakers, 102-92.
The Lakers were extremely shorthanded, having only nine players available. It would have been eight if they hadn't signed D-League standout Vander Blue earlier in the day.
The Kings were similarly shorthanded, playing without Rudy Gay and DeMarcus Cousins. They were also without Darren Collison, Reggie Evans, and Eric Moreland.
Jordan Hill, who compiled four straight DNP-CD's, was inserted into the starting lineup tonight to replace the injured Wesley Johnson. He poured in 10 first quarter points on an efficient 5 of 6 shooting to lead the way. He ended the half with 14 points on 7 of 9 shooting from the floor.
The two teams were dead even at halftime, putting in 51 points apiece. By the end of the third, the Kings only had a one-point advantage, but the fourth quarter is when they started to take command. Sparked by a Ben McLemore three, the Kings built a 10-point lead with 1:52 left in the game and ultimately sealed the deal.
Sacramento was aggressive all game long, getting to the free-throw line 36 times and converting on 28 of their attempts. The Lakers went to the line only 13 times, hitting eight. Omri Casspi, who finished with a game-high 26 points to go with nine rebounds and six assists, was living at the free-throw line. He shot 13 free throws on the night and nailed 10 of them. Casspi has been singlehandedly leading the Kings over the last five games with their two best players out, averaging 21.0 points, 5.5 rebounds, and 3.3 assists.
Heading back to Los Angeles, the Lakers have yet another injury concern. Rookie sensation Jordan Clarkson sprained his ankle twice in this game and eventually left the contest with 49 seconds remaining. He ended his night with a team-high 23 points, six assists, five steals, and five rebounds in 47 minutes.
"[Clarkson's] ankle is a little sore," Coach Byron Scott said after the loss.
Jordan Hill and Jabari Brown scored 18 points apiece. Brown also added seven assists while logging 46 minutes.
For the Kings, Derrick Williams was brilliant off the bench, scoring 20 points on 50 percent shooting and 7 of 9 from the charity stripe. Jason Thompson posted a double-double with 10 points and 10 rebounds and included three spectacular blocks.
The Lakers had only three players come off the bench once again. Ed Davis put in seven points and 14 rebounds, while Carlos Boozer chipped in eight points and 10 rebounds. Vander Blue, in his Lakers debut, notched seven points and two steals in 26 minutes.
These two teams will play each other again in the season finale on Wednesday, April 15th. That game will be at the STAPLES Center in Los Angeles.