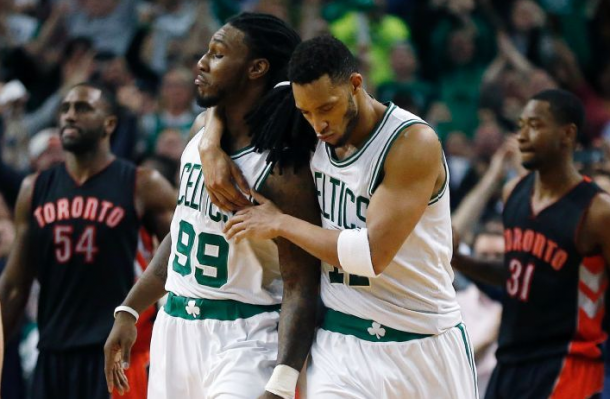 This was an important game for both teams as they are getting ready for the playoffs. This was a neck-and-neck game that went down to the wire.
For the Celtics, they won this game off a game-winning shot from Jae Crawford. It was a tough shot that was well defended by the Raptors.
Evan Turner led the way with 14 points on 7 of 14 shooting. When Turner sees the Raptors, he becomes a new player. He hit a big time shot with 35 seconds left, giving Boston a two-point lead, and made numerous big time plays. Brandon Bass had 13 points to go with nine rebounds.
Kyle Lowry shot poorly, but paved the way for Toronto with 16 points and four assists. Lowry tied the game in fourth with 31 seconds left, as he split the defense and got to the rim. However, after Crowder hit his jumper to put Boston up two, Lowry's potential game-tying shot was blocked at the buzzer by Turner. Lou Williams added 16 points off the pine. He was aggressive and got to the free-throw line 11 times, converting on 10.
For the Raptors, this was a sloppy game as they had 14 turnovers. The credit for that goes to the Celtics, who put pressure on the ball handlers and forced the Raptors to make tough decisions. The Raptors can't turn the ball over as that will kill them come playoff time.
Entering the fourth quarter, Boston led, 73-70. From that point on the two teams kept exchanging leads until the final buzzer. The Raptors played small ball throughout the fourth, playing Patrick Patterson at the five. As a result, Boston got a lot of offensive rebounds as they corralled 17 for the game to Toronto's seven.
With two minutes left in the third quarter, Celtics guard Avery Bradley left the game. Before leaving the game, Bradley had 14 points. He did not return. Going into the playoffs, this could be a big loss for them because he provides good perimeter defense and forces the opposing team to take tough shots.
The Raptors will now have to win tomorrow's game against the Charlotte Hornets and hope that the Chicago Bulls lose to the Atlanta Hawks to capture the third seed. Otherwise, they will be locked in to the fourth seed to face the fifth-seeded Washington Wizards in the first round of the playoffs.
The Celtics, on the other hand, have locked in to the seventh seed and will clash against the second-seeded Cleveland Cavaliers in the first round. They finish their season in Milwaukee tomorrow night.