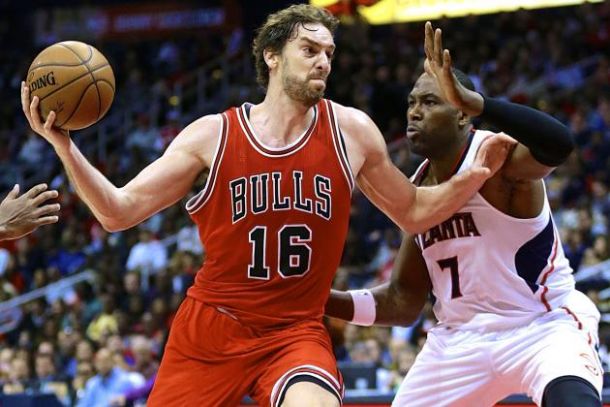 The Atlanta Hawks were shocked by the New York Knicks at home two nights ago and now they looked to finish their final regular season strong vs. the Bulls. The Hawks rested their starters tonight in the fourth quarter in a 91-85 loss in Chicago. Derrick Rose was rested due to soreness.
Atlanta got out to an outstanding 16-4 start but Chicago quickly cut into the deficit. Aaron Brooks was fouled towards the end of the first quarter and it earned him three free throws. Brooks knocked down all three shots and the Bulls were down 22-17 at the end of the period.
Nikola Mirotic got out to a quick start in the second quarter as he knocked down two three pointers that got the Bulls to tie the game at 25. Kyle Korver quickly answered back for the Hawks and the lead was back in Atlanta's hands at 28-25. The Bulls were able to get their biggest lead of the first half at 36-33 on a Jimmy Butler three pointer. Pero Antic then got Atlanta a two point lead on a three ball at 40-38. Dennis Schroder lead a surge for the Hawks as he was able to get Atlanta a 45-40 lead at the half. He had 14 points on 6/7 shooting.
The Hawks quickly extended their lead on an Al Horford layup at the start of the third quarter to make it a 51-42 game. Kyle Korver added a layup of his own to help the Hawks extend it to double digits again at 53-42. Atlanta was on a 19-4 run. Atlanta ran the table and went on a 25-4 run dating back to the second quarter. Nikola Mirotic got the deficit into single digits at 66-57 with 5:20 left as Chicago was on a 10-2 run. Jimmy Butler was then able to make it a two point game at 68-66 with 3:19 left. The Hawks' 18 point lead crumbled into a 72-70 lead after three quarters.
The Hawks' bench played the majority of the fourth quarter as Atlanta rested their starters. Dennis Schroder extended the lead to 75-70 on a three pointer to start the period. Chicago was able to retake the lead on two free throws by Jimmy Butler. Mike Dunleavy extended it to 81-77. A Shelvin Mack jumper soon helped the Hawks make it a 81-80 game with five minutes left. Two Aaron Brooks three helped make the lead a 87-82 game. Mike Muscala made it a 87-85 game for the Hawks but it was not enough as the Bulls held onto their momentum for a 91-85 win.
The Atlanta Hawks finished the regular season with a 60-22 record and the first seed in the Eastern Conference playoffs. The Bulls clinched the third seed and will face their division rival Milwaukee Bucks in the first round.