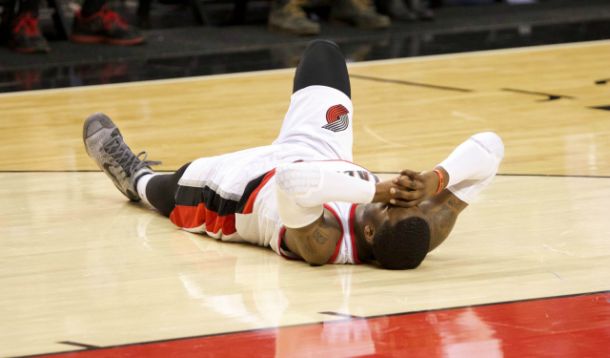 Playoffs are just around the corner and the Portland Trail Blazers have locked up the 4th seed in the West. They're fortunate to be in 4th; the surrounding positions were furiously battled over, with the Houston Rockets coming out on top in the 2nd seed. The Blazers can thank the Northwest Division for granting them this placement, the teams are full of mediocrity. The OKC Thunder didn't have the season they had hoped for, vacating the title for Portland to snatch. Utah, Denver and Minnesota make up the remaining spots, and they're all sub-.500 teams.
Portland started off the season looking like title contenders, but not so much anymore. Poor recent play makes them underdogs against the Memphis Grizzlies, who swept the season series in convincing fashion. It's easy for Blazer fans to blame injuries, and they're partially right. Losing Wesley Matthews was a big hit to both the offense and defense, and Dorell Wright and Arron Afflalo each had individual roles that were indispensable. Injuries aren't completely responsible for Portland's downfall though.
Damian Lillard and LaMarcus Aldridge are both still healthy. Losing to teams like Utah or Orlando down the final stretch is unacceptable when they're on the court. Hidden talents like CJ McCollum and Meyers Leonard provide support for the starters, and really should be enough to pull out victories over weaker teams. So what's the problem?
Looking at team stats, there is no glaring weakness. They rank in the top 50% of the league for rebounds, assists, points per game and opponents points per game. Only from watching a majority of Blazer games can their true weakness be identified. Unfortunately for them, it's not a change that can be made overnight.
Almost all Portland players are hesitant to drive to the hoop. It's as simple as that. They have one of the tallest teams in the NBA, six players are over 6'9", three of which are over 7'. Despite this, they rank 26th in points in the paint, averaging 38 per game. This leads to a dependency on outside shots, more specifically three pointers. They're 6th in the league for most points off threes, a total of 29 a game. This tactic may work in most games, but with Matthews done for the season, the number of games where shots aren't falling goes up, resulting in big losses.
Let's look at the MVP candidates: Steph Curry, LeBron James, Russell Westbrook and James Harden. All of them are great outside shooters, but what separates them from the rest of the league is their ability to drive. Penetrating the opponent's defense generally leads to fouls, and therefore free throw attempts. With the exception of Curry, who is a prolific outside scorer, the other three are ranked in the top five for free throws attempted per game. The first Blazer player listed isn't until rank 17, with only 4 attempts per night (Lamarcus Aldridge). As a team, they're 3rd to last for free throw attempts.
Their offense is so dependent on threes, the off chance someone does drive, the ball ends up getting kicked back out and another outside shot is taken. If Portland's guards, primarily Lillard, could drive more often and draw the foul, Portland's offensive efficiency would skyrocket. They're the best free throw shooting team in the league, yet take almost the least amount per game. This mainly comes down to guard play rather than big men.
Where big men do play a part is rebounding. Portland is 2nd in the league behind OKC for rebounding, whom they were absolutely destroyed by on the glass during Monday's game. If Lillard and the rest of their front court drove more, even when a foul isn't called, the chances of a Blazer grabbing the offensive board is good.
As mentioned earlier, this change won't come overnight. They only have one more game left in the regular season and playoffs begin in less than a week. It wouldn't be surprising if Portland exited early on in the first round, but miracles can always happen, look at last year for example. If they somehow do manage to advance, they'll face the Golden State Warriors, who also swept the season series. Coach Stotts and the Blazer team need to start focusing on next year when everyone is healthy again. With a few minute changes in their offense based on the stats above, Portland could finally be in contention for another championship ring, their first since 1977.