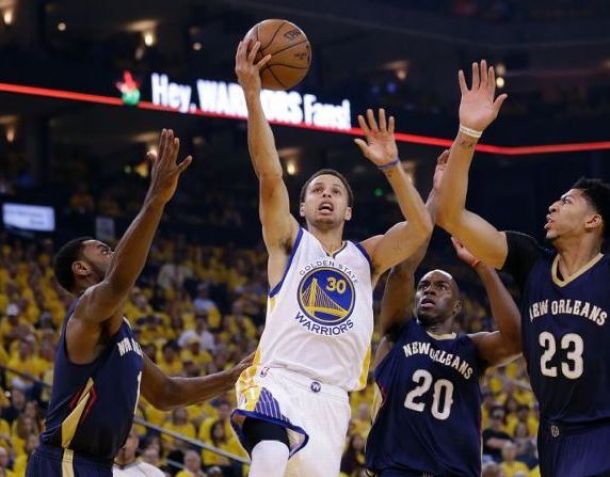 Stephen Curry's 34 points helped lead the Warriors to a close, but not so close game 1 win over the New Orleans Pelicans.
The Warriors had pushed a 25 point lead over New Orleans in the third quarter, but from the end of the 3rd and into the 4th, the Pelicans went on a 14-0 run to really get back into the game, but the Warriors closed it out to win 106-99.
"This is a good test for us to start the playoffs when we haven't had much of this during the season," said Stephen Curry.
Curry missed three free throws and Klay Thompson missed a few down the stretch as well. "We'll fix that," said Curry with a smile when asked about the missed free throws.
Anthony Davis really came up big in the second half, he totaled 35 points on 13/23 shooting, though he only grabbed 7 rebounds.
It was an interesting outcome. It's not surprising that the Pelicans came back. It was clear that the Warriors took their foot off the gas pedal. This is good for them though like Curry mentioned after the game, the Warriors needed a test like this. In order to really grasp the playoff atmosphere and not be shaken in future games in the playoffs.
Game 2 will be Monday night, in Oracle Arena again. The Warriors have a solid chance of making this a 2-0 series lead. Tyreke Evans left game 1 with a left knee contusion so it will be interesting to see if he suits up or is limited in any way on Monday.
Klay Thompson - 21 points, 6-17 FG, 3-6 3pt
Andrew Bogut - 12 points, 14 rebounds, 5 assists
Draymond Green - 15 points, 12 rebounds, 7 assists, 3 steals