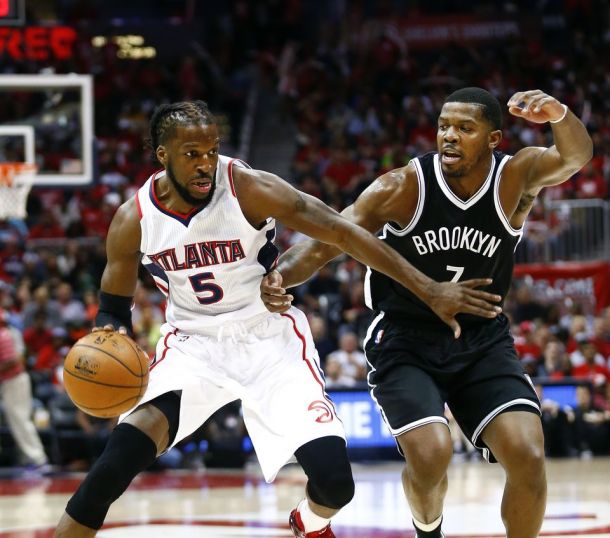 The first seeded Atlanta Hawks started Game 1 of their first round playoff series against the eighth seeded Brooklyn Nets. The Nets are looking to be only the fourth team since the best of seven series format to upset a one seed.
The Hawks got out to an early 7-2 lead, led by DeMarre Carroll. Brook Lopez was a rebounding machine and helped trim the lead to 9-7. The Hawks got some breathing room due to Carroll to get a 15-9 lead with 7:19 left in the first quarter. All five Hawks starters had scored at that point. Carroll then knocked down a three pointer for Atlanta, which opened up a 18-9 lead. Atlanta was on a 7-0 run with 5:55 left. Two Pero Antic three pointers helped the Hawks extend the lead to 24-13. Dennis Schroder caught fire for the Hawks and it got them their biggest lead of the period at 12 with a 32-20 lead at the end of the first quarter.
An early three pointer by Kyle Korver extended the lead to 35-20 in the second quarter. The lead grew to 41-25 with nine minutes left. Deron Williams cut the deficit to single digits at 43-34 with 5:11 left in the first half. Brooklyn was on a 7-0 run. A Jeff Teague three pointer got the Hawks back out to a double-digit lead at 46-34. Joe Johnson cut the deficit to eight and the Nets were on an 11-3 run with 1:30 left. DeMarre Carroll went back to work with an and-one play and the Junkyard Dog pushed the lead to 55-45 at halftime. Carroll had 12 points and Johnson had nine points at the half.
The Hawks tacked on to their double digit lead with a quick layup from Jeff Teague early in the third quarter to make it 57-45. A 9-0 Nets run quickly erased the large deficit to make it a 57-54 game. Atlanta led by as many as 16 points. Paul Millsap stopped the bleeding with a layup that made it 59-54. DeMarre Carroll added a three pointer to his clutch shooting day to extend the lead to 62-54 with 6:20 left in the third quarter. Atlanta got back to double digits with a three pointer by Kyle Korver to make it a 65-54 lead with 5:10 left. The Hawks were on a 8-0 run. Dennis Schroder then added a three of his own to increase their lead to 70-56. Atlanta matched their biggest lead of the game at 16 with a tip-in by Pero Antic to give them a 72-56 lead. The Hawks led the Nets after three quarters.
Kyle Korver's three pointer early in the fourth quarter gave the Hawks a 77-64 lead. A Dennis Schroder steal then increased the lead to 81-67 with 9:42 left. Mike Scott gave the Hawks a boost with an and one play to make it 83-70. A 7-0 Nets run suddenly turned into only an 84-77 lead for Atlanta. A Brook Lopez layup and a pair of Joe Johnson free throws cut it to 88-83 with 3:29 left in the game. Johnson totaled 17 points, six rebounds, and six assists. Johnson was booed every time he had the ball in his hands. He was traded to the Nets in the summer of 2012 after spending seven seasons in Atlanta. He made six consecutive all-star appearances with the Hawks.
Lopez had 17 points and 14 rebounds. He was a dominant force on the offensive boards as he totaled six for the game. Kyle Korver added another crucial three pointer for Atlanta as the lead increased to 91-83. A pair of DeMarre Carroll free throws helped make it a 10 point game with 2:54 left. The Nets then created another run with six unanswered points to make it a 93-89 game with 1:30 left. Atlanta had four turnovers in six possessions. Jeff Teague then went into fourth quarter form with a clutch jumper that extended the lead to 95-89. He then tacked onto the lead with two free throws that made it 97-89 with 57 seconds left. Deron Williams knocked down a three pointer for Brooklyn to make it 97-92 but it wasn't enough to complete their rally, as they fell to the Hawks 99-92.
The Hawks have now won five straight games - the Nets this season. Both teams will have times to rest as Game 2 will be on April 22nd. Atlanta's Al Horford will also need that rest as he suffered a dislocated finger in the second half of Game 1. He went into the locker room but returned to the bench after icing his finger.