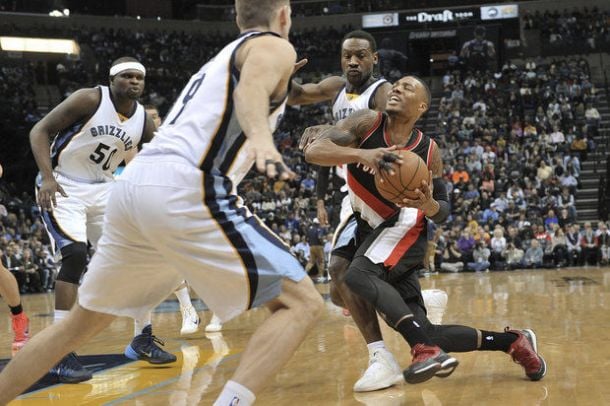 Prior to tonight's match-up, the Grizzlies had won the last nine of 10 meetings against Portland. During the regular season, the Trail Blazers averaged 103 points per game and shot it at 45 percent. Arron Afflalo would not suit up for game one, as he was dealing with a strained right shoulder.
The Trail Blazers began making just four of their first 16 shot attempts in the first stanza of the game; they were held to just 25 percent shooting. Beno Udrih energized the bench in the first 12 minutes of the game as he put up eight points while going four-of-four. Mike Conley, who has hasn't been 100 percent due to coping with an injury, was able to get some early rest with the strong contribution Udrih was providing.
By Halftime, Memphis kept building up their lead as they were up by 19. Their shooting percentage also kept increasing as they were at 45 percent. Portland on the other hand, had yet to reach 35 percent. The Grizzlies had 15 free throw attempts and hit on 13 of them. A major reason why they visited the free throw line often is due to Portland having committed 11 fouls.
Zach Randolph would then find his offensive rhythm in the third frame, as he put up ten points. Entering the last quarter of the game, Memphis would be up by 24. Manufacturing offensive turned out to be a huge issue for Portland. Damian Lillard was held to just 14 points on five-of-21 shooting. Two of the Trailblazers' starters were held to just two points each. As a team, the Trail Blazers concluded the game shooting 34 percent. LaMarcus Aldridge ended up being the only bright spot for Portland, as he put up 32 points and 14 rebounds. Last year, in the first round series against the Houston Rockets, Aldridge averaged 30 points per game.
Udrih lead all scorers for Memphis with 20 points. Marc Gasol earned his own double-double and was 3 assists shy from a triple-double, as he put up 15 points and 11 boards. The Grizzlies showcased their defense with nine rejections.
Game two will be on Wednesday, April 22nd. The game will start at 8:00 P.M. EST and will be shown on TNT.