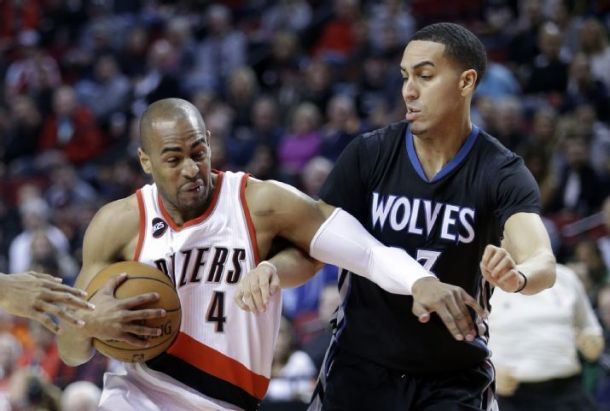 After dropping Game 1 of their Western Conference Semifinal series against the Grizzlies in convincing fashion, the Trail Blazers are in dire need of an offensive spark, one which shooting guard Arron Afflalo could provide come Wednesday night.
Portland struggled mightily to muster a continuous attack on offense in their 100-86 defeat at the hands of Memphis last night in front of a packed house at FedEx Forum, recording a horrific 33.7% shooting percentage from the field. Damian Lillard shot just 5-for-21, while LaMarcus Aldridge connected on just 13 of his 34 attempts, underscoring an incredibly frustrating affair for a team that has now dropped five consecutive contests.
Luckily for this adversity-stricken group, which has fallen to the Grizzlies in all five of their matchups this season, Afflalo and his sweet shooting stroke could find its way back into Portland's arsenal for Game 2, depending on how the veteran performs in practice over the coming days.
Before sustaining a right shoulder strain in April 9th's loss at Golden State, the UCLA product had posted averages of 13.3 points and 3.2 rebounds per game over the course of the season, shooting 42% from the field and 35% from three-point range. In four games against Memphis, he's compiled averages of 11.5 points and 2.3 boards, shooting 55% in 29 minutes per outing.
Affalo's return would curve the minutes of second-year guard C.J. McCollum, who suffered in Game 1 at the hands of a formidable Grizzlies defense. The former Lehigh standout shot just 1-for-8 in 37 minutes on Sunday night, shooting 0-for-2 from deep while recording just two total points to accompany his five rebounds and a single turnover.
After being approached by Comcast SportsNet NorthWest in the locker room following the Game 1 defeat, Afflalo convincingly stated that he'd be "good to go" come the second contest of the series. Head coach Terry Stotts conveyed that his workload in practice has been improving as well, providing some optimism to a Portland faithful in need of it.