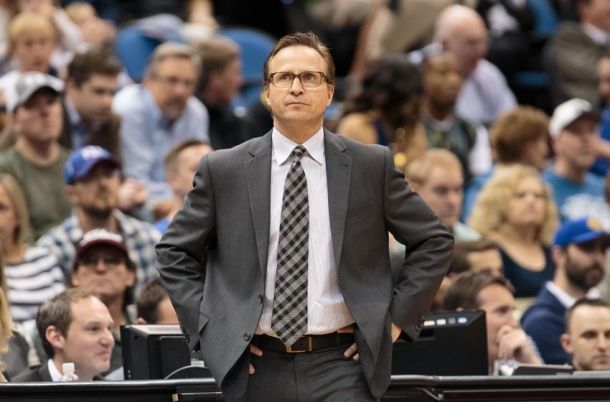 Adrian Wojnarowski reported earlier this week that the OKC Thunder evaluating Scott Brooks as their coach. This report in itself shouldn't suprise anyone. Surely every team that doesn't achieve its preseason goals evaluates its coaching position, however, with Kevin Durant approaching free agency in 2016, any head coaching change carries significant implications.
Today, Adam Zagoria added fuel to the fire by reporting the Thunder has interest in Kevin Ollie. Now the connection here is obvious. Kevin Ollie played with Kevin Durant and Russell Westbrook in 2009, and was considered a part of building the Thunder's current culture. Ollie won the national title with UConn last season, but failed to make the NCAA tournament this season.
Now this is all speculation. The guys most plugged into the Thunder are Darnell Mayberry and Anthony Slater of the Oklahoman and Royce Young of ESPN.com. If those three, Adrian Wojnarowski, or Marc Stein don't report it, it's best to be skeptical of any Scott Brooks being fired reports. The Thunder have shown a pretty big commitment to Scott Brooks throughout the years, and it would be rather odd to fire him after an injury plagued season.
If the Thunder do make a change though, it would be for an overall culture change. Clearly they would make the change with one eye on the 2015-2016 season and one on 2016 free agency. Kevin Ollie would help facilitate a culture change and may be more flexible than the typically stubborn Brooks. More importantly, it is said that Kevin Durant maintains a good relationship with the UConn head coach. If the Thunder want to make a change, but also don't want to irritate Durant, Ollie would conceivably be a good bet. No move would be without risk, but Ollie would seem to be the safest.
There have also been various reports about Billy Donovan making the jump to the NBA. This is simply a name thrown out because he has ties to the Thunder organization. A lot of coaches have a lot of ties to every organization and jumping at the idea of every single one is pointless.
It would be shocking if the Thunder actually made a coaching change with uncertainty ahead in the summer of 2016. There's a fine line walking between angering a super star and trying to win a championship. Sure it seemed to work for the Golden State Warriors this season, but there's no guarantee it works for the Thunder. The grass isn't always greener on the other side.
Bottom line, GM Sam Presti has some very serious and difficult decisions to make. His exit interview is scheduled for Friday, and that will tell a lot of where his vision for the Thunder organization is.