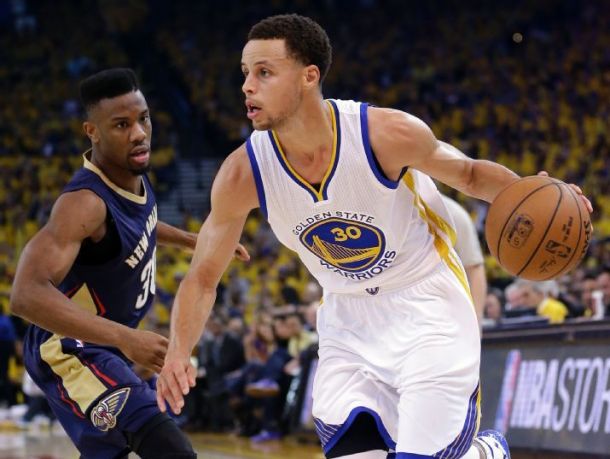 The Golden State Warriors came out and beat the New Orleans Pelicans in the second game of their first-round series, 97-87. New Orleans kept it a contest for three and a half quarters until Golden State pulled away left with Klay Thompson leading the charge. This is the Warriors first 2-0 series lead since 1989.
The Warriors came out to a 28-17 deficit to end the first quarter. Golden State shot 32 percent in the first quarter, which they answered with 76 percent performance in the second frame. With 4:28 left in the half, the Warriors went on a 19-7 run, finished by a Curry three with ten seconds left, to take a 55-52 lead going into the break. New Orleans came out playing physical defense and making baskets every time up the court. Unfortunately for them, the Warriors went into lock down defensive mode and started executing offensively and changed the tide of the contest.
Tonight, Thompson was a man on a mission late in the fourth, scoring 14 in the quarter and putting this game away. He scored a total of 26 points, three rebounds, and three assists. Stephen Curry, who didn't score in the fourth, contributed 22 points, six assists, and four rebounds.
Draymond Green got another double-double with 14 points and 12 rebounds while also contributing with three steals and five assists. Andrew Bogut had another great big man performance, grabbing 14 rebounds and blocking three shots. The bench came up big tonight and turned in a performance quite different than what we saw in Game one. Leandro Barbosa was key to the Warriors' second quarter run, totaling 12 points and providing an offensive spark from the second unit. Shaun Livingston also had a bounce back game, scoring three points and dishing four assists without committing any turnovers.
Anthony Davis led the Pelicans with 26 points. Eric Gordon scored 23, and Tyreke Evans added 16. The Pelicans were kept to one point over the last five minutes of the game that included an 11-0 Warriors run. The Pelicans couldn't come out and have a complete 48-minute performance and came out with the loss.
The series continues Thursday night in New Orleans. Golden State will look to take complete control of the series with a commanding 3-0 lead, while the Pelicans will try to earn their first win of the series in front of their home crowd.