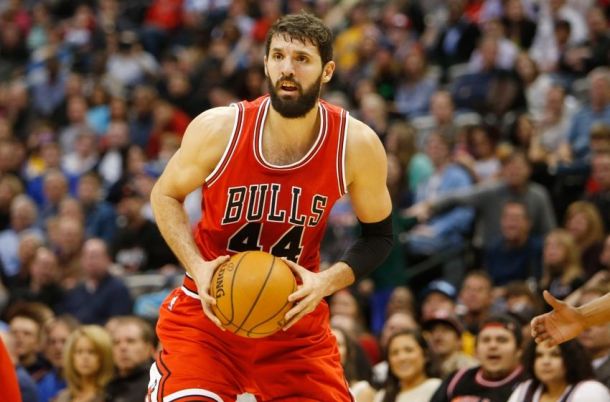 After a hard-fought, physical battle with the Milwaukee Bucks in Game 2 on Monday, Chicago Bulls rookie Nikola Mirotic came away with a knee injury.
The injury took place late in the fourth quarter when both he and Zaza Pachulia scrabbled for a loose ball and later got into a pushing match while on the ground. They were both hit with technical fouls, and Mirotic was later seen on the bench getting his knee treated, looking to be in major pain.
During light workouts Tuesday morning, Tom Thibodeau announced that Mirotic has a left knee strain and will be out a few days. Mirotic was also spotted limping and wearing a wrap on his knee.
"We want to see how he responds to treatment. He's sore today. It's a sprain," Tom Thibodeau said.
Coach Thibodeau did not place a realistic timetable on Mirotic, but Game 3 is on Thursday, and he is unlikely to play.
In the meantime, Mirotic will get treated 2-3 times a day, and if he is to miss any time, Taj Gibson should see a drastic increase in minutes. The Bulls will miss Mirotic's floor spacing and energy off the bench.
In other injury related news, Tom Thibodeau is hopeful that Kirk Hinrich will be able to play in Game 3. Hinrich has missed five consecutive games due to a knee injury and could provide more backcourt depth if he is able to return.