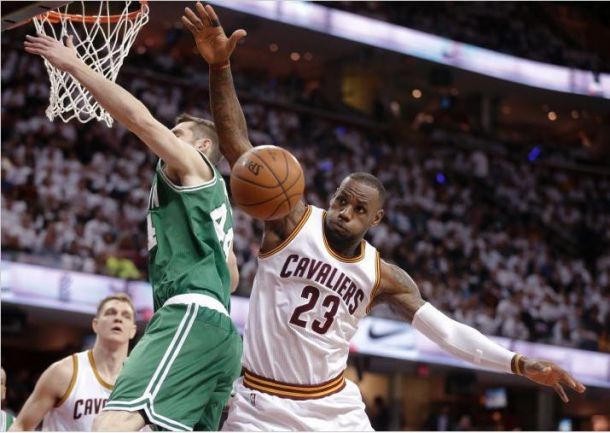 The Boston Celtics came out and started Game 2 as the aggressor. Avery Bradley and Co. were hounding the Cavaliers, and making Kyrie Irving's life extremely difficult.
Boston rushed out with intensity and focus, ready to prove that they belong in these playoffs. They won the first quarter, 26-25, and fought for every loose ball and every rebound. The Q was not any easy place to play for this inexperienced team, but they looked ready to take on the challenge, and did so.
Even though he had stellar defense, Celtics guard Avery Bradley finished the game with eight points and was minus-12 for the game. Bradley, who can be a streaky shooter, has had a poor playoff showing so far. On the other end for Cleveland, J.R. Smith played one of his best games defensively. Smith had a career-high five steals on what was a poor shooting night for him, finishing 3-for-12 from the field with seven points.
Boston managed to keep the second quarter close as well, and although Cleveland won the quarter, it was only by two points. The Celtics scored 24 in the second, while the Cavaliers had 26. The score at the half was 51-50 with Cleveland on top. As close as the score was, there was a glaring need for a rim-protecting center on the Celtics end in this one. Cavs big man Timofey Mozgov had 10 first half points, and stepped all over Boston.
The third quarter was a Cavaliers explosion, and even though the box score doesn't make it look that bad, Boston let the Cavs get loose. Boston played its worst quarter, losing it 18-24, and let the Cavaliers get some steam while heading into the final frame.
Boston did have a leading scorer in all of this. While LeBron James was busy dropping 30 points on the C's, little man Isaiah Thomas came off the Boston bench and put in 22 of his own, spurring a Celtics comeback in the fourth quarter and nearly stealing this game from Cleveland.
Kyrie Irving's 26 points helped Cleveland close out this game and win it 99-91. However, don't expect Boston to lay down, especially after this one. The series shifts back to Boston on Thursday at 7 PM EST, and that crowd is sure to help propel the Celtics to a level Cleveland hasn't seen yet.