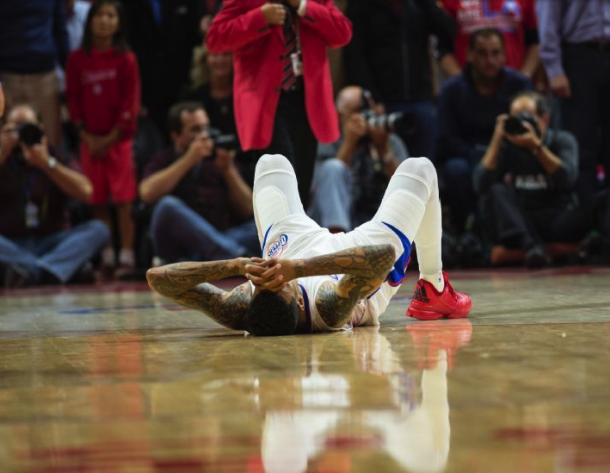 Tim Duncan and Kawhi Leonard helped lead the Spurs Wednesday night to a huge win in Staples Center. Duncan had 28 and Leonard had 23. Duncan, however, was hard on himself following the Spurs' 111-107 overtime win.
"I missed two or three layups. I made two or three defensive mistakes, got out of position and gave up dunks to DeAndre [Jordan]," Duncan said. "I was awful in that fourth quarter."
Duncan may be the only player to even criticize his performance, as he hit shots throughout the whole game to help the Spurs.
Gregg Popovich had some very kind words to say about Duncan's performance.
"Timmy's got a great mind. He's got a great feel for the game," Spurs coach Gregg Popovich said. "He knows the situation. In that case, he knew what position he was in. He's just smart. It has nothing to do with anything else except that he is smart. He knows he had to stay on the court, and he figured out a way to do it. He continued to be aggressive, which is pretty amazing."
"He went into overtime and told us, 'Sorry for the fourth quarter, guys,'" said Spurs forward Kawhi Leonard, who had 23 points. "He then knocked down a few big-time shots in overtime to keep us in the game."
The Spurs fought through some injuries, as Parker left with a tight right Achilles, and Patty Mills stepped up with some huge three pointers late in the game.
The Spurs now have taken a control over this series. After game 1, it seemed like the Spurs were in a sense hit in the mouth and were caught off guard. They sure changed that Wednesday night as they won in overtime. They had a 10-point lead for a good amount of time in the game so they were in a position to take control and step on the throat of the Clippers, but the Clippers fought back. Blake griffin and Chris Paul analyzed their loss in different ways.
"That game is on me," Blake Griffin said. "I just got to take care of the ball."
"We've got to finish," Paul said. "We've been talking about it all season long. We've got to execute down the stretch."
Both players seem to at least get the sense that this game could have gone either way. Chris Paul is right, the Clippers have in the past struggled on executing down the stretch and in order to beat the Spurs, or any Western Conference team, they will have to execute in the fourth quarter.
We're in for a great series, and it's only been 2 games. Game 3 will be on Friday.