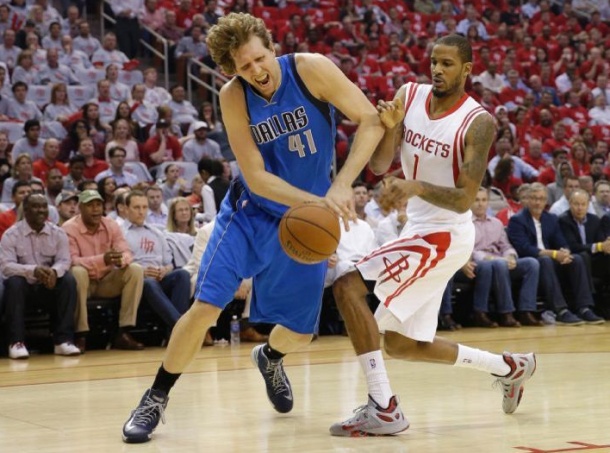 Final: That's it for me, folks! Enjoy your evenings and be sure to follow our other Live events here on VAVEL.
Wizards-Raptors Live
Clippers-Spurs Live
Final: Houston - 130 Dallas - 128.
Final: Game 4 will be on Sunday, April 26th where the Rockets will look to sweep their Texas rivals to move on to the second round.
Final: Even without Rondo, the Mavericks just don't have enough talent to stop Houston.
Final: Harden finishes with 42 points, nine assists, and five rebounds. Howard puts in 13 points, 26 rebounds, and two blocks.
Final: Good game from both Ellis and Nowitzki but not enough.
Final: Dallas in a 3-0 hole now. No teams have come back from 3-0 down.
​4th Q :00 - Ellis misses the shot and that's ball game! Houston takes a 3-0 series lead!
​4th Q :07 - Brewer gets one of two. It's now a two-point Rockets lead, Mavs ball.
​4th Q :08 - Ellis goes for the quick two and scores! Dallas fouls Brewer.
​4th Q :12 - Harden!!! Cold blooded! Hits a step back shot over Chandler. It went in and out and back in. Clutch!
​4th Q :33 - Houston - 127 Dallas - 126
​4th Q :33 - I talked about Nowitzki and Ellis combinin for a good game earlier. They have 34 and 32 points respectively and are still down. But it's only a one-point game, Houston ball.
​4th Q :33 - Nowitzki gets fouled behind the arc. Terrible foul by Harden!
​4th Q :56 - 40 for Harden, four-point lead.
​4th Q :56 - Harden takes it to the hole, draws a foul and-one! He's just too skilled.
​4th Q 1:13 - Dirk gets both. One-point game.
​4th Q 1:13 - Nowitzki uses a fake and draws a foul. He will shoot two free throws to try and cut the lead to one.
​4th Q 1:40 - Ellis drills a long two. Three-point game!
​4th Q 2:19 - Nowitzki buries a three! Five-point game!
​4th Q 2:40 - Houston - 124 Dallas - 116
​4th Q 2:40 - Smith gets a hoop and a foul. That was big time!
​4th Q 2:53 - Howard, new playoff career-high 25 rebounds!
​4th Q 3:09 - Rockets - 122 Dallas - 116.
​4th Q 3:09 - Offensive foul on Ariza, Dallas ball!
​4th Q 3:31 - Harden loses the ball, Ellis gets an easy two.
​4th Q 3:54 - Ellis floats in a shot over Howard.
​4th Q 4:12 - Terry didn't finish, but Howard puts it back down with one hand!
​4th Q 4:31 - Houston - 120 Dallas - 112
​4th Q 5:00 - Nowitzki hits a jumper, but Harden answers back with a three!
​4th Q 5:14 - Jefferson (undisclosed) will be out for the rest of the game.
​4th Q 5:25 - Howard hits both this time.
​4th Q 5:26 - Took a while, but the Mavericks foul Howard again.
​4th Q - 5:40 - Aminu puts in a three from the corner. Huge shot!
​4th Q 5:53 - Howard hits one of two.
​4th Q 6:04 - Ellis hits a mid-range jumper, and here we go with more Hack-A-Shaq. Howard is fouled this time.
​4th Q 6:29 - Harden hits Jones with a beautiful pass and an easy dunk.
​4th Q 6:47 - The Mavericks just cannot find a basket. Some little boos coming from fans.
​4th Q 7:33 - Nowitzki hits the second basket for the Mavs for the quarter. They are going through another dry spell.
​4th Q 8:14 - Brewer leaks out once again for another finish at the rim. Houston up 11.
​4th Q 8:34 - Smith hits both.
​4th Q 8:34 - Mavericks using Hack-A-Smith.
​4th Q 8:58 - Smith and Howard connect again, as Howard powers down a two-handed dunk off a nice feed by Smith.
​4th Q 9:38 - Mavericks have already committed four team fouls in this quarter.
​4th Q 9:48 - Howard battling hard in the paint! Great effort to keep control of the ball.
​4th Q 10:18 - Dirk has Brewer on him on the switch. He needs to take advantage of that. Draws a foul this time.
​4th Q 10:31 - Brewer doing what he does best, gets out in the break for a layup.
4th Q 11:33 - Howard shoves Harris to the ground to get the offensive rebound and finds Ariza for a three!
​3rd Q :00 - Houston - 101 Mavericks - 99. That does it for the third. It seems like a final score, but we have another quarter to go...
​3rd Q :19 - Stoudemire takes the rookie Capela in the post and scores over him.
​3rd Q :46 - Brewer makes a cut to the rim to get two.
​3rd Q 1:09 - Aminu erases Harden's shot this time which results into another corner J for Dirk.
​3rd Q 1:28 - Harden gets to the rim again, takes it at Villanueva for the two. He's got 16 in the third.
​3rd Q 1:48 - J.J. Barea stops the bleeding with a three on the other end.
​3rd Q 2:08 - A couple of offensive rebounds, and Smith gets a three out of it. Houston up 9.
​3rd Q 2:51 - Houston - 93 Dallas - 88. Timeout on the floor.
​3rd Q 2:51 - Harden dishes to Capela for the hoop and harm.
​3rd Q 3:06 - Ellis to Aminu for another easy two.
​3rd Q 3:33 - Ellis hits a jumper over Smith on the mismatch.
​3rd Q 3:55 - Brewer again! Another triple from the corner. Can someone put a body on him?
​3rd Q 4:26 - Harden to Smith for a duck in under the rim. Houston is starting to take over.
​3rd Q 4:50 - Houston - 86 Dallas - 82.
​3rd Q 4:50 - Brewer drills a three! Another timeout for the Mavs.
​3rd Q 5:09 - And Harden continues to draw fouls.
​3rd Q 5:50 - Ellis takes it to the hole, then finds Aminu under the basket next possession down.
​3rd Q 6:10 - Howard grabs his 18th rebound and Harden puts in another! He's got 12 in this quarter, 30 for the game.
​3rd Q 6:31 - Howard and Chandler getting into it a bit.
​3rd Q 6:42 - Terry knocks down a free-throw line jumper.
​3rd Q 7:10 - Houston - 77 Dallas - 76
​3rd Q 7:10 - But Harden drills a three to give Houston a lead! Timeout Dallas!
​3rd Q 7:18 - Ariza attacks the rim again, and Chandler rejects it this time.
​3rd Q 7:44 - Ariza attacks the rim and throws it down!
​3rd Q 7:58 - Jefferson intentionally fouls Harden to get a breather. It looks like he is hurting a bit as well.
​3rd Q 8:25 - Harden quickly answers with a step back jumper of his own.
​3rd Q 8:39 - Dirk with a fall away corner jumper over Jones, silky smooth.
​3rd Q 9:01 - Howard swats Jefferson's shot and Harden draws a foul in transition.
​3rd Q 9:23 - Harden knocks down a triple to finally put Houston on the board in this second half.
​3rd Q 9:47 - Rockets have started the quarter 0 for 5.
​3rd Q 10:44 - Nowitzki stops the "drought" with a mid-range jumper.
​3rd Q 10:46 - Over a minute without scoring. That was rare considering all the offense played in this game.
3rd Q 12:00 - Quarter underway!
END OF FIRST HALF
2nd Q :04 - Harden comes down and hits a shot to bring the Rockets within 7. Mavs lead 72-65!
2nd Q :33 - Josh Smith throws it down with authority! 72-63 Mavs
2nd Q 1:08 - Aminu knocks down 2 free throws to put the Mavs up 72-61!
2nd Q 2:00 - Aminu hits a three then Ellis gets a fast-break dunk off a steal! Mavslead 70-57!!
2nd Q 3:09 - Dirk hits a three! Mavs lead 65-54! What a high-scoring game!
2nd Q 3:34 - Jason Terry hits a three! Rockets storm back! Mavs lead 62-54
2nd Q 4:43 - Ellis hits a three!! Mavs lead 59-49!! Harden finally comes down and gets fouled and will head to the line.
2nd Q 5:39 - Villanueva makes a three! Mavs up 6!
2nd Q 6:16 - Barea scores! Mavs up three and the Rockets take a timeout!
2nd Q 6:39 - Chandler throws it down! Mavs are up 50-49!
2nd Q 7:37 - Villanueva hits a layup and cuts the lead to 1.
2nd Q 8:40 - Ariza makes a cut and hits the layup. Rockets lead 49-46!
2nd Q 9:10 - Barea hits a shot off the glass and the Rockets lead 47-46
2nd Q 10:00 - Barea ties it with a shot in the key! Tied at 44!
2nd Q 10:37 - Dirk for three!! Mavs cut the lead to 4! and Dirk hits a mid-range jumper to cut the lead to 2!
2nd Q 11:44 - Amare gets fouled as he goes for a dunk, he knocks down 1-2. Rockets lead 42-37
END OF FIRST QUARTER
1st Q :02- Josh Smith hits a shot to put the Rockets up 42-36 at the end of the first!
1st Q 1:12 - Ellis knocks down a three in transition! Mavs down three and Barea finds Ellis for a dunk to cut the lead to 1! Timeout Rockets!
1st Q 1:45 - Amare gets a field goal to go and gets fouled! He sinks the free throw and Rocket lead 37-31
1st Q 2:28 - Ellis gets a floater to go in! Rockets lead 35-26 after a Brewer three.
1st Q 3:43 - Harris gets fouled and makes the bucket! He'll go to the line. He misses the free throw but they get the offensive rebound and Amare throws a dunk down! Rockets up 31-24
1st Q 4:26 - Jones gets an And-1 to go! He misses the free throw, Rockets up 27-15!
1st Q 5:39 - Harden sinks an easy mid-range jumper but Chandler comes back down on the other end for a dunk! Harden sinks another floater and he starts out 4-4 for this game. Rockets up 23-15!
1st Q 6:11 - Harden makes another three off of a Howard offensive rebound. Rockets lead 19-13!
1st Q 7:17 - Harden finds Jones for a dunk! Timeout Mavs, Rockets lead 14-9!
1st Q 7:59 - Harden gets a three to go but Chandler comes back and throws down a dunk! 12-9 HOU
1st Q 9:00 - Ariza hits a three pointer then Jones hits a mid-range jumper. Harris gets on to go and the Rockets lead 9-7!
1st Q 10:16 - Dirk gets one to go! Mavs up 5-2
1st Q 10:43 - Jones gets fouled and goes to the line. He hits both of them. 3-2 Mavs
1st Q 11:15 - Ellis hits a three to start it off! Mavs up 3-0
1st Q 12:00 - Rockets win the tip!
Game Start
Rockets fans teasing Mark Cuban's comments with these posters at the American Airlines Center.

This game is an absolute must win for the Mavs since no team has ever come back from a 3-0 hole in a playoff series. Teams are 0-110 when down 3-0. It's funny how perspective has changed for this series. Coming in, many people believed the Mavericks could push the Rockets to seven games. Now, people are talking about sweep. What a difference two games make.
There is no way the Mavericks win any games in this series if they don't fix their interior defense and shoot more efficiently. They are already shorthanded being without Parsons and Rondo to go with a hurting Devin Harris. There is a lot of pressure on Ellis and Nowitzki now to lead the team, but the two, so far, have not had a good game together. Nowitzki played well in Game 1, scoring 24 points on 14 shots, but Ellis was quiet. The next game, Nowitzki struggled while Ellis played considerably well.
Monta Ellis, who is shooting 33 percent for the series, led all scorers for Dallas with 24 points on 8 of 23 shooting. J.J. Barea added 13 points and six rebounds off the bench, while Tyson Chandler had 11 points and eight rebounds.
The Mavericks offense was a huge problem late in the game as well. They had many open looks and missed, especially Dirk Nowitzki. He shot 3 of 14 for the game and went 0 for 3 in the fourth quarter when the Mavericks needed him most. He had just 10 points but did vacuum in 13 rebounds.
Howard finished with a game-high 28 points and added 12 rebounds an two blocks in 33 minutes. The Rockets bench, coupled with Howard, were playing so well that James Harden was not needed much late in the game. Harden did muster 24 points, six assists, and five rebounds but shot 5 of 17 from the floor. He was, however, 13 for 13 from the foul line.
"[Josh Smith] and Dwight had some beautiful hookups and lob passes, and he just did a wonderful job of getting into spots and making the next play and breaking down the defense," Coach Kevin McHale said.
Smith connected with Dwight Howard about five times for an alley-oop play. He also teamed up with Corey Brewer multiple times, while the Dallas defense was non-existent. The four-five pick and roll with Smith and Howard was ran to perfection on many occasions, and the Mavericks had no answer. Smith flirted with a triple-double, scoring 15 points, dishing out nine assists, and nabbing eight boards. VAVEL USA's recap of Game 2.
The Mavericks were playing well for the first three quarters in Game 2, but let the game slip away in the fourth quarter. It was alley-oop dunk after dunk for Houston throughout the fourth, led by Josh Smith.
In other Dallas news, Chandler Parsons will be out for the remainder of the season and may need surgery on his knee. This is a huge blow for the Mavericks as Parsons is one of their best perimeter defenders. He is also incredibly versatile on both ends of the floor. It's no secret that the Mavs are a much better team with him in the lineup. However, Devin Harris (toe) is expected to play.
When asked if he expects Rondo to ever wear a Mavericks uniform again, Carlisle responded, "No I don't." After Game 2, the Mavericks announced that Rondo will be out indefinitely with a back injury. Apparently, he hurt his back during the game and is unable to play. Either way, healthy or not, it looks like Rondo's run with Dallas is over.
The next morning Rondo gave the Mavericks front office an ultimatum - he will leave Dallas if Rick Carlisle remains the head coach of the team. The clear choice for the Mavs would be to let go of Rondo which is exactly what will happen. Rondo said that he would leave to go to Los Angeles to play for the Lakers.
The biggest storyline coming into this game is the Rajon Rondo situation. Rondo played 34 seconds in the second half and was benched for the rest of the game. He finished with a total of 10 minutes. He was extremely unhappy with Rick Carlisle's choice to bench and did not speak to media after the loss on Tuesday.
This is the third game in the first-round playoff series between the Rockets and Mavericks. The Rockets lead the series 2-0, winning the first two games in Houston.
Hello, everyone! Welcome to the Live Event of the Houston Rockets vs Dallas Mavericks live score at the American Airlines Center in Dallas, Texas. I am your host tonight, Vahan Shakhpazyan.