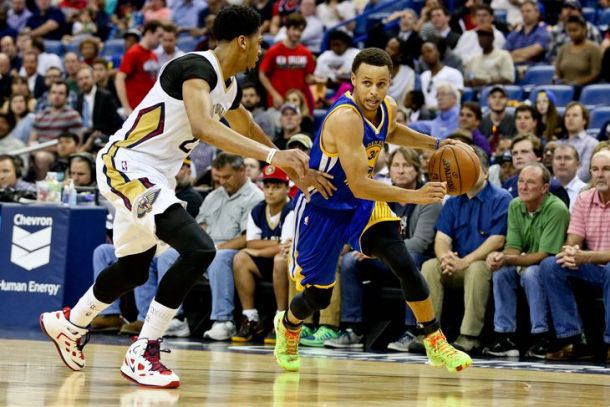 After coming into this game 3-0, The New Orleans Pelicans gave it all they had in game 4 at home, yet, despite the works of Anthony Davis and Eric Gordon, they were not quite able to hold back the sharp shooting Golden State Warriors, as they took a season ending defeat 109-98.
Coming into this game, both sides knew this was one they had to win, and starting the first quarter off, both teams started off with a bang. Draymond Green came up big in the first half as he made a couple threes, helped defend Anthony Davis, and was able to give Golden State a 31-24 lead after the first quarter. Stephen Curry also racked up some assists during that time as well as some freethrows, while Eric Gordon was able to hit some jumpers to help the Pelicans stay in the game.
Going into the second quarter, the momentum stayed with the Warriors as the Splash Brothers got their rythm going, yet Gordon and Davis were still able to help their team hang in there by blocking shots, and scoring a couple threes as they went into halftime down 36-30.
Towards the thrid quarter, the Warriors took full control of this game, as Curry had already notched up 23 points and 7 assists with less than 9 minutes to go until the end of the third. The Dubs were able to stay focused creating an 85-62 lead, as Steve Kerr was able put most of the starters to rest towards the end of the period. However, things were not over yet. As we know from Game 3, you can never think you have won it, even late in the fourth quarter.
The Warriors started off the fourth with some missed shots as well as some bad turnovers, and this seemed to have given the Pelicans some momentum. Towards the 7:36 mark, Gordon was able to make the driving layup to the basket cutting the lead 95-10. Slowly, inch by inch, the Pelicans were able to make it a 10 point game 95-85 with a Gordon three pointer.
Before you knew it, the crowd was on their feet, and it almost seemed like a reversed Game 3. The Warriors starters made their way back into the game, trying to extend their lead, getting it to 101-88 with a little more than 3 minutes left in the game. Curry missed some shots, while Gordon made some, and we soon had a 7 point game 103-96. Despite all this, Klay Thompson was able to step up, knocking in a three to put the Warriors up by 10 with one minute left. At this point, the game was pretty much sealed, as the Golden State Warriors took the 4-0 series lead with a sweep in New Orleans finishing 109-98.
Some notable players in tonights game that stepped up huge include Stephen Curry who marked down 39 points, 8 rebounds, and 9 assists, and of course his fellow Splash Brother Klay Thompson adding 25 points. Draymond Green also fought hard, with 22 points and finishing with 10 rebounds as well as 8 assists. As for the Pelicans, Anthony Davis came up huge with 36 points, 11 rebounds, 3 blocks, and 1 assist, while Eric Gordon also joined in, racking up 29 points as well as 5 assists.
The Pelicans fought hard throughout this 4-game series, however it was not enough to hold off the Number 1 seed Warriors, as they advance to the second round of the Western Confrence Playoffs, and will face either the Memphis Grizzlies or the Portland Trailblazers. For now, the Warriors look to enjoy a nice rest as they head back home, before starting their next series.