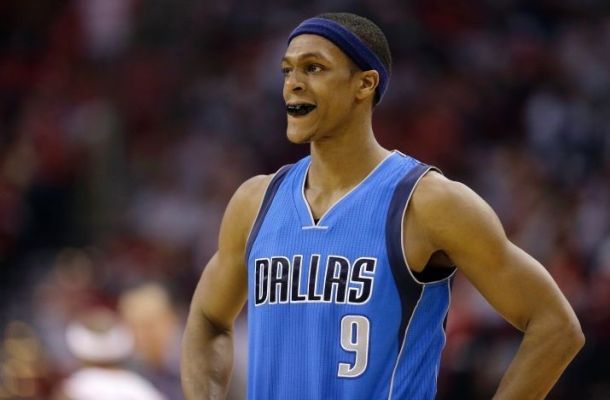 As most NBA fans should know, Rajon Rondo wants out of Dallas. The point guard got traded from Boston to Dallas for a handful of assets in December, but the gamble clearly hasn't worked out for Mark Cuban and the rest of the Mavericks front office. The difference of opinions between the great basketball minds of Rick Carlisle and Rajon Rondo have clashed, on multiple occasions, which has led to Carlisle saying that Rondo won't be back in Dallas next season and Rondo telling the Mavs' front office to fire Carlisle, otherwise, he will leave. So basically, only one of them will remain next season, but considering Carlisle's track record, the Mavs won't let him go. So, Rondo will be walking in free agency; where exactly is unknown for now, but the Lakers are reportedly interested in his services, however, the Lakers would be making a big mistake by signing Rondo in the off-season.
To an average NBA fan, Rondo signing with LA may make sense. Rondo wants a big deal, the Lakers have money and that will be the only thing that they will have to give up to acquire him. The Lakers also need another star to carry on the legacy of Kobe Bryant and keep the Lakers relevant after his retirement. With the amount of cap room that they have and the depth that this free agent class presents going after a big name seems logical, the thing is, Rondo just isn't the one for LA.
There are two main reasons for why the marriage of Rondo and the Mavs didn't work out. The first of which is Rondo's personality. Rajon Rondo's personality and his relatively big ego has seen him clash with teammates in Boston (Ray Allen) and now with his teammates in Dallas and of course coach Rick Carlisle. If that was bad, imagine him next to Kobe Bryant. The man that compared his teammates to toilet paper and then proceeded to yell at his General Manager. The guy that also forced one of the greatest centers of all time, Shaquille O'Neal, to leave. Kobe with Rondo both clearly have issues with making friends with teammates and if they become teammates, this might be the biggest personality clash of all time and could force Rondo out of yet another team, and the Lakers into an even worse state.
The other reason why things didn't work out properly in Dallas is the way that Rondo plays, and that he didn't fit in with the way that Dallas's personnel prefers to play. The Dallas offense used to revolve around Monta Ellis. Ellis was the chief playmaker in Rick Carlisle's ingenious, yet simple system. Before the Rondo trade, Ellis was able to penetrate, using his terrific driving ability and kick to shooters all around him who would space the floor. But with Rondo in their offense, since he can't space the floor and become a spot up shooter in their system, Carlisle and co. had to put him in that creator role that. However, this wasted Monta Ellis's talent as he had to be restrained to the simple floor spacer role.
The problem for the Lakers is that this would likely happen again because of the role that Kobe plays in the Laker offense. Kobe obviously loves the ball in his hands and likes to create his shots off the dribble by himself. But if Rondo were in the Laker offense, just like in Dallas, since he can't space the floor, defenses would be able to double Bryant easily, knowing full well that Rondo will probably miss the wide open 3. Therefore Rondo would have to be the initiator in the Laker offense like he did in Dallas, which again would waste his star shooting guard's talent.
The Lakers shouldn't be trying to attract a star free agent. Trying to get a Rondo, or a LaMarcus Aldridge, or Kevin Love will only hurt GM Mitch Kupchak's rebuild even more. This is because the Lakers don't have another star (unless you still count Kobe as one) on their roster, and therefore throwing max money at a free agent will just put them in no man's land in the tough Western Conference. Instead, the Lakers should be trying to obtain draft picks and assets, go after young talent and build a championship worthy team that way instead. Another reason why they shouldn't go after one of these free agents is because the Lakers just don't have the free agent appeal they once had. They don't have a superstar to build around, they are no where near contention and they are in the stacked Western Conference. Going after hard after a superstar may not even land them one for those reasons, as was seen in the most recent free agency, where the Lakers threw big money at LeBron, Carmelo Anthony, Chris Bosh and many more stars. And LA got none of those guys.
The Lakers should go after cheaper, younger free agents, to build their team around for the future. Players like Greg Monroe, Reggie Jackson and Brandon Knight would all be better, cheaper and younger options for a rebuilding Lakers team in search of an identity.
The Lakers going after Rondo sounds like a big panic move. Instead of rushing into this rebuild like they have been rumoured to be doing, LA should slow things down and rebuild like a sane organisation.