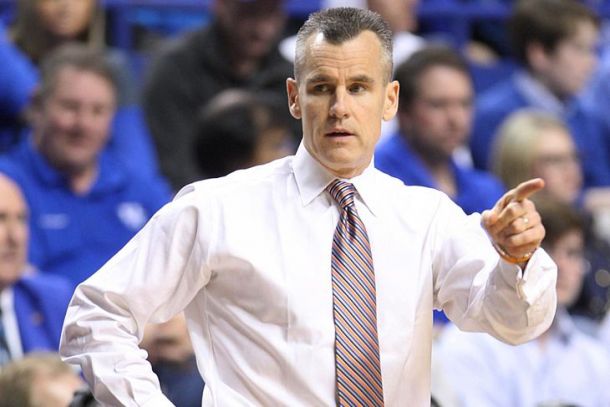 The Oklahoma City Thunder, who recently fired head coach Scott Brooks, have begun discussions with Florida Gators coach Billy Donovan about their vacant coaching position, according to ESPN's Marc Stein.
Donovan is believed to be the frontrunner for Oklahoma City's coaching job, as he and general manager Sam Presti have opened talks about the position.
Donovan has accumulated a head coaching record of 502-206, a .709 winning percentage. The three-time SEC Coach of the Year is believed to be NBA ready and has a close relationship with Presti.
Though, the Thunder is likely to take their time and speak with other candidates before making a final decision. Kevin Ollie has been reported as another option for OKC, but there is no mutual interest.
Current Bulls head coach Tom Thibodeau also remains as another possible choice should he get fired by Chicago when their season ends.
The Oklahoma City Thunder missed the playoffs for the first time in five seasons, but that was not the reason Scott Brooks was relieved from his coaching duties. Injuries suffocated this team right from the beginning and ultimately cost them a trip to the postseason.
Although the Thunder did not win a championship under Brooks, he was quite successful with the team, but the front office felt a need for change. They hope a college coach like Billy Donovan could congregate the same success as current Boston Celtics coach Brad Stevens, who also made a quick jump from college to the NBA.