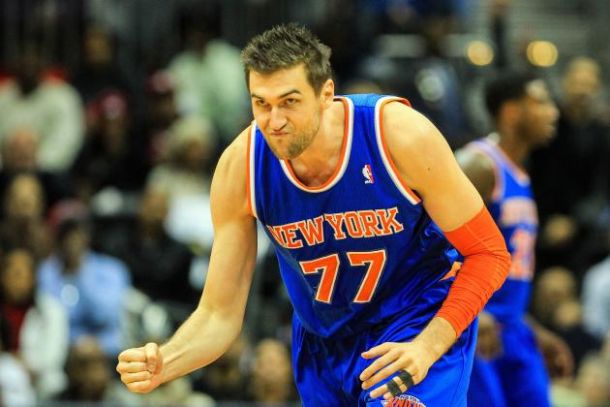 Former number one overall pick Andrea Bargnani spoke with La Gazzetta Sport Newspaper about what he plans to do with the future of his basketball career.
"I want to remain in the NBA. And I will. I am now a veteran in the NBA, and, you know, I would like to sign with a team that can give me the opportunity to win a ring". Bargnani did not completely rule out New York however, as he added "I had a great experience with the Knicks, I liked the city, the team and had a good relationship with Derek Fisher. I wouldn't mind signing with the Knicks if the opportunity comes."
On July 10, 2013, Andrea Bargnani was acquired by the New York Knicks from the Toronto Raptors. The Nine year veteran has struggled much of his career, coping with injuries and having played just 42 games during his two seasons with New York. According to Marc Berman of the New York Post, the Knicks would be interested in resigning Bargnani for the veteran minimum. With the Knickerbockers looking to make a splash this summer by bringing in a second All-Star to team up with Carmelo Anthony, team President Phil Jackson is not willing to spend a huge chunk of money on Bargnani.
Although he hasn't been known to be a strong defensive big man for much of his NBA playing days, Bargnani's shooting range is what showcases his talent.
Knicks head coach Derek Fisher had positive things to say about the Italian big man during the season "He's an extremely talented player and the injuries limited him reaching his ceiling. If he's back, thats great. If not, he'll do great no matter the situation."
Bargnani averaged 15 points and 4 boards per game during the 14-15 regular season. He could potentially be a great steal in free agency for whoever picks him up.