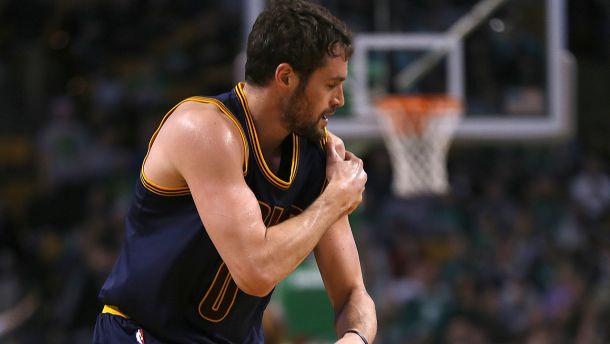 The Cleveland Cavaliers have announced that forward Kevin Love has underwent successful shoulder surgery and is expected to be out four to six months.
Love's surgery was performed by Dr. David W. Altchek at the Hospital for Special Surgery in New York City.
This news confirms that Love, as expected, will indeed miss the remainder of the playoffs. Love dislocated his shoulder in Game 4 against the Boston Celtics while battling for a loose ball. He and Kelly Olynyk got tangled up which led to Olynyk, who has since been suspended one game, pulling Love's shoulder out of its socket.
Tristan Thompson is expected to take over the starting power forward position in place of Love.
With the looming matchup against the Chicago Bulls, the Cavaliers will certainly miss Love's ability to stretch the floor, rebound, and pass. Not only do they lose all of Love's qualities, but they also lose depth since Thompson will move into the starting lineup.
Expect Coach David Blatt to shuffle his rotations to find the right combinations. Shawn Marion, James Jones, and Kendrick Perkins should all see an increase in minutes.
This has been a disappointing end to Love's season. In seven seasons, this was the first time that Love made the playoffs, and for it to only end after just four games is upsetting.
Also, Kevin Love may opt out this summer to test free agency, with many reports suggesting that he may not return to Cleveland.
Whatever the case may be, for now, LeBron James and Kyrie Irving will have to carry a heavier burden.
To add salt to the wound, the Cavaliers will be without streaky shooter J.R. Smith for the first two games of the semifinals as he was suspended for back handing Jae Crowder in the face during the second half of Game 4 against Boston.