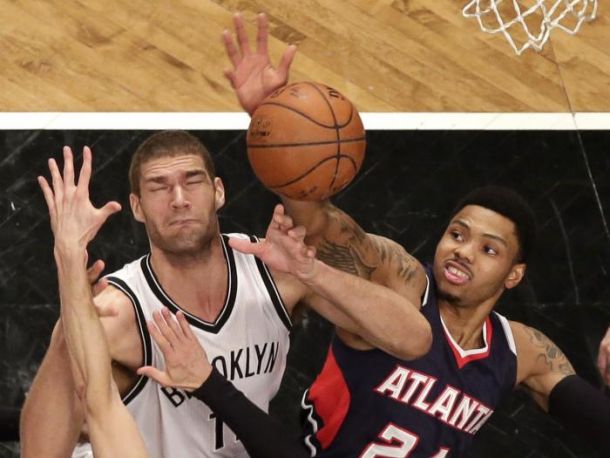 The Atlanta Hawks have had trouble with the Brooklyn Nets throughout the first round of the NBA Playoffs and it took them six games to put away the eighth seed. Atlanta had three players score 20+ points and dominated the game midway through the third quarter.
Two three pointers by Kyle Korver and DeMarre Carroll helped the Hawks get out to an early 11-6 start with 8:04 left in the first quarter. Deron Williams soon knocked down a pair of free throws that cut the lead to 11-10. Five assists by Jeff Teague in five minutes helped extend the Hawks' lead to 15-10. A 9-0 run was created by Atlanta and the lead was at double digits at 20-10. DeMarre Carroll knocked down a three pointer with one second left in the period to go up 36-23.
The Hawks' lead was extended to 15 points early in the second quarter off of a Dennis Schroder jumper. Bojan Bogdanovic dug into the deficit into single digits with a three pointer that made the score 38-30. Brooklyn was on a 7-0 run. The Nets' momentum escalated with a Joe Johnson three pointer and it was a 40-37 game. Brooklyn's run was now at 14-2. Paul Millsap stopped the bleeding for the Hawks and hit a thre ball to make it a 43-37 score. Millsap had 25 points, nine rebounds, six assists, and two steals. He soon sinked in basket on a three point play to put the Hawks up 51-43. Atlanta came into halftime with a 51-45 lead.
The Hawks proved to the Nets why they were the number one seed in the second half. An early dunk by DeMarre Carroll and a Kyle Korver three pointer made it a double digit lead again at 56-45. Atlanta was on a 7-0 run. Three pointers by Korver and Carroll made it a 17 point game at 65-48. Atlanta addressed their concerns of finishing at the basket and it helped them dominate the quarter. Atlanta scored 41 points in the period and they were up 92-66 after three quarters.
The Nets managed to cut the deficit to 18 points with five and a half minutes left in the fourth quarter but it was not enough as the Hawks were able to keep their feet on the gas and coast to the second round of the playoffs.
The Atlanta Hawks win the series against the Brooklyn Nets 4-2 and will face their Southeast division rival Washington Wizards in the Eastern Conference Semifinals. The Hawks were 3-1 - the Wizards in the regular season.