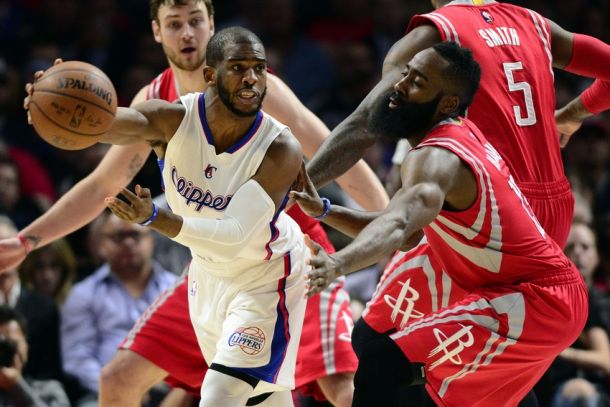 The first round of the 2015 NBA playoffs has concluded, and we are now down to eight teams. The second round begins Sunday, May 3rd. Which teams will advance to the Conference Finals?
1. Golden State Warriors - 5. Memphis Grizzlies: WARRIORS in 6.
This will be a battle between opposites, as the Grizzlies heavily rely on their defense while the Warriors are most reliant on their potent offense. Memphis had the second best defense amongst the 16 first-round teams, but with the likelihood of Mike Conley being out the first two games, Stephen Curry should be able to explode offensively like he has been doing. Conley's defense is crucial since he was, after all, holding Damian Lillard to 18.0 points per game on 35 percent shooting in the first three games of Memphis' first-round series against the Portland Trail Blazers. Without Conley on the floor, Lillard averaged 27.0 points on 47.6 percent shooting in two games. Therefore, without Conley, the Grizzlies could get off to a slow start to the series which could ultimately cost them. But we cannot count out Memphis. Their defense is suffocating, and they could push Golden State to the limit.
2. Houston Rockets - 3. Los Angeles Clippers: CLIPPERS in 7.
This matchup is very difficult to predict since both teams are evenly matched, especially their starting lineups. On the Rockets, who is going to stop Blake Griffin? For the Clippers, who is going to stop James Harden? The series could very well come down to bench play. Or perhaps whichever team is more physical or whichever team can hit more free throws (Hack-A-Howard? Hack-A-Jordan?). The one difference between these two teams is that the Clippers are more battle tested. They most recently came out on top against the defending champions and proved that they can, not only win one game on the road, but win two. Blake Griffin and Chris Paul have both shown determination and hunger and have the willingness to carry this team past one more round, at most. Though the prediction is Clippers in 7, it can go either way. Very tough one to predict.
1. Atlanta Hawks - 5. Washington Wizards: HAWKS in 6.
The Hawks were pushed to six games by the eighth-seeded Brooklyn Nets, a team that was under .500 and barely made the playoffs. However, we cannot overact to that. During the final game of that series, the Hawks demonstrated the sufficient ball movement and efficient scoring that we had seen throughout the regular season. The Wizards come in as the more physical team, but the Hawks will have to finesse their way to victory in this one. Home court advantage should help them, and their ability to get quality offense should prevail. They cannot take the Wizards lightly, though. Washington is a mentally tough team that would love to make this an ugly series.
2. Cleveland Cavaliers - 3. Chicago Bulls: CAVALIERS in 7.
Kevin Love will be out for the entire playoffs, but that shouldn't change the outcome of this series. The Bulls certainly have size but the Cavaliers have athleticism and quickness. The one problem with the Bulls is that they do not know what they will get from Derrick Rose. We expect Jimmy Butler and Pau Gasol to have a terrific series, but Rose has been unpredictable. One game we see flashes of the old D. Rose. The next game we see a player that has indeed gone through multiple knee surgeries. Rose's game-by-game production could be the determining factor. Nonetheless, it is tough to predict against LeBron James, Kyrie Irving and Co., but expect the Bulls to make this a close series.