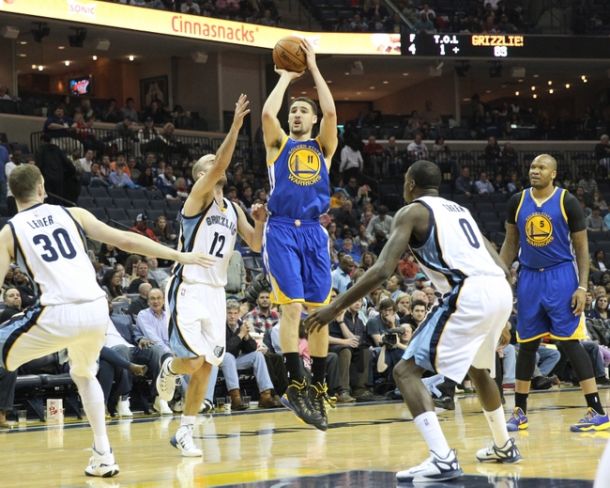 The second round of the NBA playoffs is finally here, beinning with the Golden State Warriors vs. the Memphis Grizzlies. This is a highly-anticipated matchup as it is the #1 seed against the #5 seed, but the Grizzlies will not be as easy for the Warriors to beat as the Pelicans were.
As a reminder, the Warriors just got off a one-week break after they swept the Pelicans in Round 1. That sounds great, but it also raises some questions. Teams that get rest either get "rested or rusted." However, this does not seem like a major problem for the Warriors as they have been practicing throughout this week, and as Coach Kerr likes to say, he sees his team "with a greater sense of impending competition." Other players such as Klay Thompson have also said that they are "anxious and excited... it feels like it has been an eternity since we have had playoff game at Oracle.." Overall, this should not be too much of a problem for the Warriors, as the players seem to be ready to go.
Also, The Warriors got back their forward, David Lee. He has been out for a while with a back injury, but he will play a huge roll in the Warriors' lineup, allowing players such as Draymond Green, and Andrew Bogut to get a little rest. Lee will be huge when it comes to defending Zach Randolph and Marc Gasol. However, that does not mean he will be able to completley stop them. For now, Lee adds some depth to the Warriors, yet he will most likely remain playing a similar role that he occupied in the regular season as he only averaged around eight points a game -- but also added five rebounds per game as well.
As for the Grizzlies, they just came off a 4-1 series win against Portland Trail Blazers, beating them 99-93 in the final game of the series. Players like Marc Gasol and Vince Carter stepped up in this series to help the Grizzlies advance to the second round.
Now, in some more slightly bad news for the Grizzlies as well as their fans, star Point Gaurd Mike Conley took an elbow to the face in Game 3 against the Trailblazers, and he is not expected to return for Game 1 against the Warriors. This is a huge blow to the Grizzlies as he ran their offense and averaged around 16 points, 5 assists, and 3 rebounds per game during the series. Fortunately for them, his surgery was succesful on April 27, and he can hopefully make an appearance sometime down this series as he is traveling with the team to Oakland. However, if Conley's injury turns out serious, it can be a huge blow to the Grizzlies, especially on offense.
As for matchups, the Stephen Curry/Mike Conley matchup would have been great to watch, but, unfortunately, we will not be able to see that in Game 1. However, another exciting matchup to look forward to is Marc Gasol and Andrew Bogut. Fans will get to see who can really get up there and block shots as well as defend the rim as both players will have a huge impact on the game. In addition, seeing Randolph and Green go head-to-head will be very intriguing as they both bring a lot to their teams.
Defense is really going to be key for both teams going into this series as Memphis will have to guard the dynamic duo of Stephen Curry and Thompson while the Warriors will have to stop Gasol and Randolph from getting to the basket.
The Grizzlies are known for their size, so in order for the Warriors to win this game, they have focus on defense. They need to be able to defend the rim and stop Randolph and Gasol from taking over the game. Bogut and Green will have a huge responsibility when it comes to defending these two and protecting their home court as the Grizzlies look to take Game 1 on the road.
Winning Game 1 will not be too easy for the Grizzlies, and in order for them to win this game, they have to step up and take care of their offense since they will most likely not have Conley playing on the court with them. Players such as Courtney Lee, and Nick Calathes need to step up and control the offense and make plays if they want to give themselves a chance against the Warriors. It is also impereative that they defend the three-point line because with star players such as Curry and Thompson, once they get going, the Grizzlies will have a hard time stopping them.
In the end, this will be an exciting matchup to watch, and it will not be an easy one for either team going into Game 1. Both teams will have to give it their all in order to win. Game 1 tips off starts at 3:30 pm EDT on ABC.