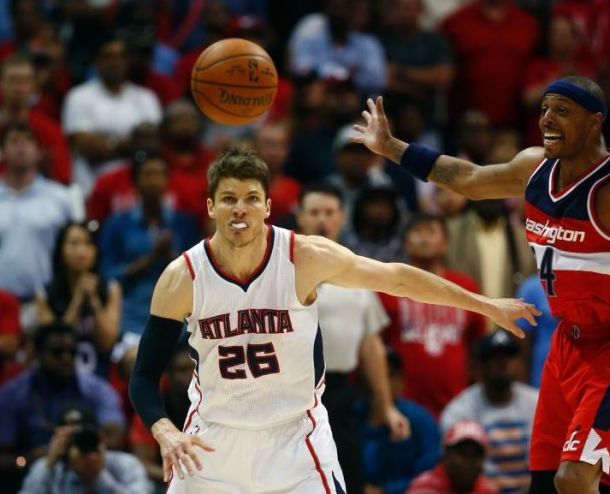 The Washington Wizards walked into Philips Arena on May 3rd looking to upset the East's top team, and they did exactly that. The Wiz pulled off a 104-98 victory thanks to a second half which saw them outscore Atlanta in both quarters.
Atlanta has been applauded this season for winning 60 games without a superstar, and while they have Al Horford, is he enough to put the Hawks over the top?
All five of the Hawks starters were in double-digit scoring during Sunday's game, but their bench production left much to be desired. Their leading scorer off the bench was Dennis Schroder, who had nine points in the contest. If the Hawks want to split this series, their bench has to come up big and give the starters a break.
On the other side, Washington had 27 points off their bench and was led by journeyman Drew Gooden who poured in 12 for the Wiz. Washington has been able to get solid production from their starting five, including 28 from Bradley Beal and 18 from John Wall. The wild card for the Wizards this post-season has been veteran forward Paul Pierce, who had 19 points in the Game 1 win. Pierce has been a solid presence for a growing Wizards team and has helped them win games, especially against their first-round matchups, the Toronto Raptors.
The Hawks committed 11 turnovers to the Wizards' six in Game 1, and if Atlanta has any chance of winning Game 2, they must take care of the basketball. The Hawks also hit 78 percent of their free throws in the opening game as opposed to Washington's 86 percent, which might not seem like a big deal, but in the playoffs every missed free-throw counts.
The Hawks led in most categories, from points off turnovers to points in the paint. However, they shot 38 percent from the field while the Wizards were able to connect on 42 percent of their shots. Atlanta needs to make a higher percentage of their shots and keep their turnover rate low in order to succeed.
Washington now has the confidence they need to take Game 2 and head back hom with a 2-0 series lead. If Atlanta wants to reach the Conference finals, this game is a must-win.