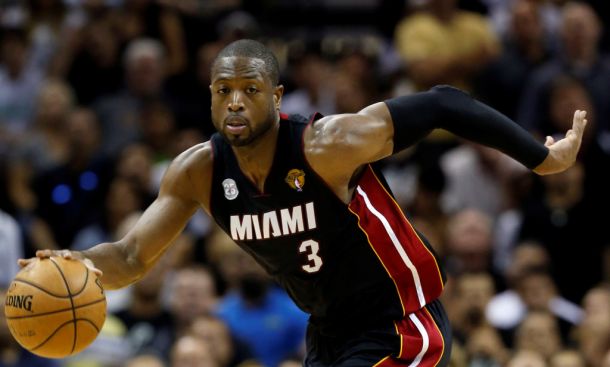 Last offseason, the Miami Heat suffered a huge blow when LeBron James announced that he is returning home to Cleveland after bringing two championships to South beach.
Could another disappointing offseason further demoralize the Heat this summer?
According to the Associated Press, contract negotiations between Dwyane Wade and the Heat are at "an impasse." If the Heat does not meet Wade's demands, the three-time NBA champion could take his talents elsewhere.
Wade has a $16.1 million player option on his contract for next season and could opt out to become a free agent this summer. He has always had an excellent relationship with the Heat and has repeatedly said that he wants to retire in a Miami uniform.
"We're in a very good position to offer him more than anybody else," Pat Riley said in April.
For now, Wade has not made any final decisions on his immediate future.
"He's trying to figure out how things should transpire and if he can reach another agreement with the Heat," a person with knowledge of the situation told the Associated Press.
Aside from Wade, the Heat has other concerns. They are still not sure whether Goran Dragic would return after spending half the season in Miami. Dragic's intentions are to opt out of his contract to test the free agent market, as he is seeking for a lot more money.
Luol Deng also has a player option on his contract, and his return is uncertain as well.
After making it to the finals in 2014, the Miami Heat posted a 37-45 record, failing to reach the playoffs for the first time since 2008. After James' departure, Wade took a pay cut to remain in Miami, while Chris Bosh received a massive five-year, $118 million contract.
However, if Wade does indeed leave Miami, the organization could face a long playoffs drought. It's now up to the Miami Heat to come up with a satisfying offer for their long-time superstar.