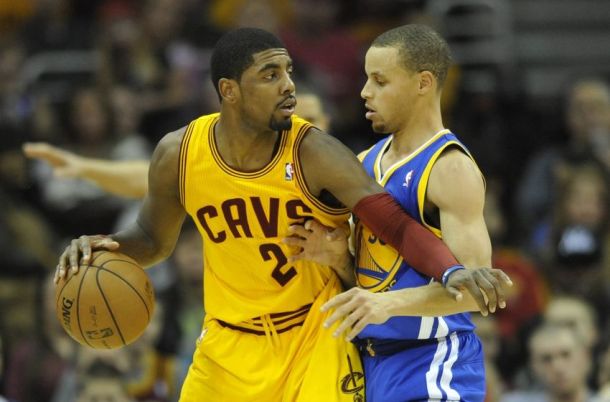 On Thursday, basketball's greatest prize will be up for grabs. The Golden State Warriors and Cleveland Cavaliers will be vying for the right to be called NBA champions. While much has been made of the storylines and the amount of star power that exists in this series, it's finally time to start concentrating on the tactical matchups in this series. The matchups about to be mentioned will be the key things that decide this Finals series.
J.R. Smith - Klay Thompson
Smith and Thompson are two of the most dangerous, sharp-shooting guards in the league. At any time, they both can get hot and swing the balance of any game. In most NBA Finals, players such as J.R. and Klay have won games single handedly. They do this by simply getting hot and swinging the momentum of a game. We have seen this sort of impact in recent history from players in the Finals. We had the Gary Neal game in the 2013 NBA Finals, where he scored an unprecedented 24 points, sinking six three-pointers which led the Spurs to a Game 3 victory. In the 2012 Finals, the NBA world witnessed King James winning his first ring. But what many fans overlooked is who sealed the series and the title in Game 5. That player was Mike Miller, who got unbelievably hot, shooting 7 for 8 from three-point range, going off for 23 points off the bench. This sort of thing has been present throughout NBA history.
Just like Gary Neal and Mike Miller, as well as many more before them, J.R. Smith and Klay Thompson have the ability to win a game by themselves just by getting hot. Just this season alone, J.R. and Klay have both shown this ability. There was Thompson's crazy 37-point quarter, which swung the balance of that game against the Kings. Meanwhile for J.R., getting hot is his job description. Smith has shown this in the playoffs as well, by scoring 28 points in Game 1 against the Hawks in the Conference Finals, where he went 8 of 12 from the promise land.
The Finals could definitely be swung by one of these two getting hot, so look out, because in 10 years' time, we could be talking about the time J.R. Smith or Klay Thompson single handedly won a Finals game which helped win the series.
Kyrie Irving - Stephen Curry
Unlike J.R. Smith and Klay Thompson, the Kyrie Irving/Steph Curry matchup has already been talked about a ridiculous amount by the media, and NBA fans around the globe are already expecting anything and everything when these two go head to head.
There's a reason why.
It's called talent and there is an unbelievable amount shared between these two point guards. Both are exceptional shooters and both are in fact former (or current) three-point shootout champions. They both have incredible handles and dribble moves (The debate of who has better moves will be a debate topic during the next few weeks for sure), both penetrate and drive with ease and the best part is that neither play much defense. The last point will make this matchup easily the most entertaining of all on this list.
The offensive talent that these two players possess and the lack of a strong defensive game that they both have will make this matchup interesting. If things get especially interesting, we could see straight 1 on 1 basketball between Curry and Irving, with the potential of both of them going off for 40 or 50 per game. The potential of this happening makes this matchup so important.
LeBron James - Various Perimeter Defenders
As any good NBA fan should know, the Warriors are the best defensive team in the league. Andrew Bogut is the anchor and what surrounds him is a plethora of excellent perimeter defenders. Defenders such as Klay Thompson, Harrison Barnes, Andre Iguodala and Draymond Green are all great defenders with lockdown ability.
For the Cavs, they have a guy you may or may not have heard of called LeBron James. He is the single most dangerous basketball player on the face of the earth and also Cleveland's most important player (Duh).
So what happens when you put LeBron James against all the perimeter defenders the Warriors have in a seven-game series? We're about to find out.
LeBron is going to have to work as hard for his point as he has ever had to. Usually when teams face LeBron in the playoffs, they have one guy that they have to count on to attempt to slow him down. LeBron has never seen a situation like this. A situation where even when the Warriors are forced to switch on defense, they will have another man there that is probably just as able to contain LeBron. The Warriors will be able to change their lineups, switch on most screens and not worry about rotations on the defensive side of things as much as a different team would against LeBron.
LeBron is the greatest player the NBA has seen, probably since Michael Jordan, but part of how LeBron gets his buckets is that teams just do not have anyone that matches up with him well enough to defend him. The Warriors, potentially, have four. This will be LeBron's biggest test of his individual greatness that he's ever had.
If the Warriors are able to slow LeBron down, they will have a monumental advantage during the Finals.
David Blatt - Steve Kerr
The tactical matchups on the sideline are what people often forget about in the great game of basketball. In the upcoming NBA Finals, it will surely be important, possibly the most important matchup of the entire Finals.
David Blatt and Steve Kerr both share one thing. They are both rookies on the NBA's biggest stage. They are both about to enter a tactical minefield. If they make one wrong move, it could blow up in their face.
Need an example? Look at Gregg Popovich, one of the greatest coaches of all-time. Now look at Game 6 of the 2013 NBA Finals, Spurs versus Heat, the Spurs clinging to a three-point lead. If they hold on they win the championship, they have just one defensive possession to hold LeBron's Heat off. Coach Pop takes Tim Duncan out of the game to allow the Spurs to sub in another perimeter defender to try and prevent the three.
We all know how this story ends.
The Spurs failed to haul in the rebound, as Chris Bosh grabbed it and kicked it out to Ray Allen for the game-tying three that sent the game to overtime, which Miami eventually won. They forced Game 7, where they took control and won the Larry O'Brien trophy. If Duncan was in the game and grabbed that rebound, the Spurs would have won the championship. All of it can be traced back to Popovich's decision to take Tim Duncan out.
As rookies, Blatt and Kerr won't be perfect. But they will have to be close to win.
Whoever gets the upper hand in terms of coaching will have an immense advantage, which is why this matchup is one of, if not the most important matchup of the Finals.
These matchups will be some of the most important in the NBA Finals. Look out for them as they will probably decide who will be raising a banner next season.