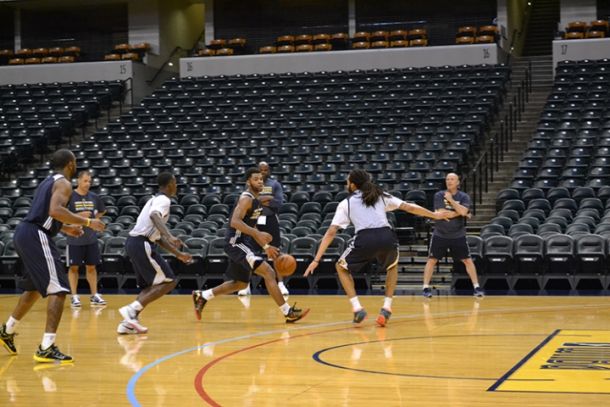 INDIANAPOLIS -- The Indiana Pacers held another pre-draft workout on May 28th. It was their third pre-draft workout of the draft process so far. The Pacers had a different structure to this workout than their previous two. This workout featured only perimeter players, meanwhile, their previous two workouts featured at least two front court players.
Interestingly enough, the Pacers were looking at larger Guards, according to the team's official website, five of the six prospects were either 6'5" or 6'6". The odd man out was Louisville's Terry Rozier, who stands at 6'2". The other prospects were: Kentuckey's Andrew Harrison, UNLV's Rashad Vaughn, North Carolina's J.P. Tokoto, Maryland's Dez Wells, and Nebraska's Terran Petteway.
In terms of skill set, Harrison was the only true point guard, the other prospects were off-ball perimeter players or scorers. This pre-draft workout was for the team's second round pick at 41st overall. This would most likely fill the void of backup point guard since the team will not be re-signing C.J. Watson, also, it is unknown what Donald Sloan's role will be with the team next season. It is not even known whether or not Sloan will re-sign with the team or not.
The reasoning behind having only perimeter players was to allow for a more intense workout. The team watched the players play 3-on-3 with full intensity, that way they could get a more accurate view of the players. This was a way for the coaches to see how the players react to certain situations. It made for some seriously competitive basketball at Bankers Life Fieldhouse.
With the consistent appearance of perimeter players at the Pacers' pre-draft workouts, it appears that the Pacers will almost certainly take a perimeter player in the second round of the draft. Indiana has made it clear when they are evaluating prospects for their second round pick, which has given us all the indication that the second round pick will be for a perimeter player. As previously mentioned, it is most likely that the team will select a point guard for the reserve role.
Tokoto on the pre-draft workout process to the Pacers' official website: "Everybody plays different spots, I was guarding Rashad Vaughn so we were moving around from wing to post, that kind of thing."
Terry Rozier on the pre-draft workout process to the team's official website: "Everything is going so fast, but still everyone is competitive. You don't have to worry about sometimes big guys dragging."
Andrew Harrison and Terry Rozier had a distinct pre-draft workout motivation. These players were major rivals during their collegiate careers. It's not like these players needed extra motivation, however, this allowed for them to gain even more motivation.
Terry Rozier spoke to the Pacer's official website about Andrew Harrison: "He's a good competitive person and it's always good to go against someone competitive you test yourself. So if I can get him in more workouts, it would be a lot of fun."
Andrew Harrison also spoke to the Pacer's official website about Terry Rozier: "He's always going to be a Louisville guy and I'm always going to be a Kentucky guy, But to be honest, we're trying to move on now and move on to the next level."
The Pacers are quite intrigued with Andrew Harrison. The large Point Guard is almost 6'6" and has shown that he can thrive in an offensive set. He is a great passer and is great in the pick and roll, which is a big need for the Pacers at the reserve Point Guard position. The interesting part about Harrison, his contributions were covered by his teammates at Kentucky, he had to really differ to them. He seems to be the ideal role player at the Point Guard position.
He seems like a great system player, with a team like the Pacers, he could really step in and be a good fit. The only concern offensively is his efficiency inside the perimeter. He was a good shooter from the perimeter, however, his effectiveness from inside the arc showed a lot of room for improvement. That's an easier aspect of a basketball player's game to develop, which is why he could become a really good system player a few years down the line.
Andrew Harrison is a unique prospect for sure, he could certainly be deemed a second round steal when it is all said and done. His defensive capability with his high defensive IQ, with his size and athleticism, and with the teammates that he would have on the Pacers, he could really step in and contribute to the team defensively and on the glass rebounding. Alongside the likes of Paul George, George Hill, Solomon Hill, and Rodney Stuckey, Andrew Harrison could really step in and have a low pressure role on the defense and the offense.
Terry Rozier is also interesting, however, it doesn't appear that he would be able to fit well on the Pacers. He could become frustrated with his role on the team for a few years. There is no doubt that he can score, but he will most likely be less effective at the next level since he is a second round prospect that needs the ball in is hands to thrive. Indiana has a lot of players that need the ball in their hands, adding another like Terry Rozier could really cause chemistry problems.
He didn't shoot well from the collegiate perimeter range last season, which would cause floor spacing problems for the Pacers half-court offense. Defensively he shouldn't cause too many liabilities for the Pacers, but he doesn't provide an incentive on the defensive side of the ball. He would get minutes early in his career as it appears, but players in the second unit like Rodney Stuckey need someone that can space the floor and be ready to catch and shoot, not create off the dribble.
Terry Rozier spoke about his positional future at the next level, quote courtesy of the Pacers website: "I sacrificed for my team, they needed me to score the ball that's pretty much what it was. It was a lot of fun, but I know I can play point guard at the next level and I know that's what I'm trying to show teams."
Terry Rozier's jump shot was a concern last season, here is what he said about it to the Pacers website: "My jump shot is looking pretty good right now. That's one of the things I was mainly working on as soon as my season ended, my college career ended."
P.J. Tokoto had a similar situation to both Terry Rozier and Andrew Harrison, they all had to differ to star teammates. His physical intangibles and high defensive IQ would allow him to really step in and dominate alongside the Pacers. He stands at 6'6" and has a 6'10" wingspan. He is a great defender and is a great athlete, which could allow him to step in and be a good asset to the team's defense right out of the gate. His footwork is phenomenal, he credits his soccer background to that.
Now as much as an asset that he could be on the defensive side of the ball, he would be a liability on the offensive side of the ball because of his poor perimeter jump shot. He is athletic enough to create for himself in the fast break, however, he struggles to make jump shots and score off the dribble. His half-court offensive game is a big project which is why he would be a liability offensively. But maybe down the road he could develop an offensive game, but for a team that wants to win now, perhaps Andrew Harrison is a better fit.
P.J. Tokoto talked about his shooting mechanics to Pacers.com, "Footwork is the biggest thing to me. Stepping into the shot, not waiting for it to hit me, not hopping into it kind of one, two step. Keeping my elbow in instead of out. If you keep your elbow out you're pushing the ball (sideways), keep it in and you're pushing it forward."
Another participant was UNLV's Rashad Vaughn. He is an interesting prospect considering how young he is. He won't be 19 years old until mid-August. The reason why his stock took a hit was because he tore his meniscus in February, however, he claims that he has completely healed. He appears to be the most talented player of this workout, has the highest potential, and his offensive game appears to the best as well.
Vaughn most likely won't be at the Pacers 41st overall selection in the second round, so the team might not even be able to worry about selecting him. He is supposed to be a late first round pick so this appears to only be an option if the Pacers decide to trade up from the 41st overall selection. If he does manage to somehow be available when the Pacers are on the clock in the second round, they should take him.
Vaughn has the most advanced offensive game of the other prospects from this workout. His size allows him to rise up in mid-range, absorb contact when attacking the basket, and even in the post. His size and strength allows for him to bump offensive players off of their course, neutralizing their effectiveness off the dribble. He has a great athlete so his athleticism can help him in all aspects of the game, particularly on the defensive side.
Offensively, Rashad Vaugn is a scorer that can attack with the ball in his hands, he has the ability to space the floor and move without the ball, but he doesn't particularly enjoy that aspect. The Pacers could really benefit from his ability, but like Terry Rozier, he needs the ball in his hands to be effective on offense. He has shown that he can create off the dribble in the pick and roll, isolation, fast break, you name it he can do it. If he willingly takes a back seat, he could be effective for the Pacers offensively, but it doesn't appear likely.
Vaughn's defense was considered a liability at UNLV. However, he has the capability of really being something special with his tools on the defensive side of the ball. Indiana can't afford to have a liability on the perimeter next season for their half-court defense, so perhaps someone else would be a better fit. I don't think that he would be a major liability, but his lack of explosiveness could really hurt him at the next level early on in his career. Rashad has talent, but there are too many variables, Andrew Harrison appears to be a safer prospect early on, however, he could be better in the long-run.
Dez Wells is the opposite of Rashad Vaughn, he utilized all of his collegiate eligibility. He spent four seasons in college, which could either hurt or help him depending on team's perception of that. Teams are obsessed with age, measurements, and athleticism, which means his age could really hurt him. However, he has a great mind for the game, he knows how to make great basketball decisions. He has great athleticism and has a 6'9.5" wingspan, which could really help his case for teams contemplating to draft him.
Wells is a very physical player that loves to play above the rim. He can punish his way to the rim and finish at a high rate. Wells does everything well offensively, but nothing particularly great. Dez sounds like an ideal role player, he is a very determined prospect. Arguably, Wells could be the hardest working player in this workout. Wells shows that he can be effective with and without the ball. His high basketball IQ lets him thrive in advanced aspects of the game like the pick and roll. He seems like a safe second round prospect that could contribute right away.
The final prospect at the workout was Terran Petteway. He has great NBA intangibles, whether that's important or not. He stands at 6'6" has a 6'11" wingspan and weighs 210. Petteway is a volume shooter, good and bad comes from that as we all know. He would straight up not be a good fit for the team. Terran needs the ball to be effective, gets lost defensively at times, turns the ball over frequently, struggles to make free throws, but he has potential. Pacers don't need a project, they need a role player that can contribute as a fitting piece. Terran can do great things with the ball, but he is not what the Pacers need. Peteway would be better off on a team that doesn't have creators of their own.
Terran Petteway talked with Pacers.com about his goals during the pre-draft workouts: "I'm trying to prove that I'm a two-way guard and that I can be a guy that can come in and score and also guard my position."
The Indiana Pacers currently hold the 11th and 41st overall draft selections in the 2015 NBA Draft. This year's NBA Draft is held in Brooklyn, New York at the Barclays Center.
- Follow this writer on Twitter at @GrantAfseth.