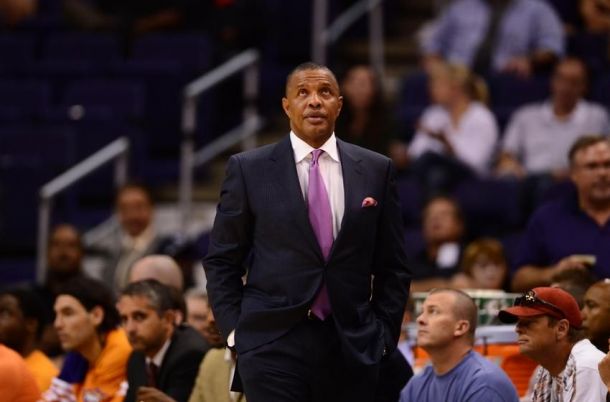 Another day, another coach hired in the NBA.
The New Orleans Pelicans, after surprisingly firing Monty Williams, have agreed to make Alvin Gentry their new head coach, according to Marc Stein of ESPN.
Gentry will finish out the playoffs with the Golden State Warriors and then take over as head coach for the Pelicans.
The Pelicans had two interviews with Gentry following up to their decision, one on May 18 and the other last night. They also had interest in several other coaches, including Jeff Van Gundy, Fred Hoiberg, Vinny Del Negro, Sam Mitchell, and former Chicago Bulls coach Tom Thibodeau. New Orleans interviewed Van Gundy twice as well and held one interview with Del Negro, Hoiberg, and Mitchell.
Meanwhile, Thibodeau, who did not receive any interviews from the Pelicans, may now take the year off from coaching. Many believed the Pelicans would snatch Thibodeau soon as he was fired by the Bulls, but New Orleans wants to play with pace this season so they went with Gentry.
New Orleans believes that Gentry will implement a fast-paced offense which could benefit the young, up-and-coming team. They also believe that Gentry could be the coach to take Anthony Davis' improving offensive game to the next level. Gentry has done wonders for Golden State's offense as an assistant coach, which gives the Pelicans a lot of confidence that he can succeed as their head coach.
Gentry last coached the Phoenix Suns in which he integrated the run-and-gun offensive system, and it worked for that particular team. The Suns reached the 2010 Western Conference Finals with Gentry at the helm and won 54 games during the season.
In his career, Gentry has coached the Miami Heat, Detroit Pistons, Los Angeles Clippers, and the aforementioned Suns. He has accumulated a record of 335 wins and 370 losses.
Alvin Gentry's deal will be four years, $13.75 million with a team option for the final year, reports Adrian Wojnarowski of Yahoo Sports.