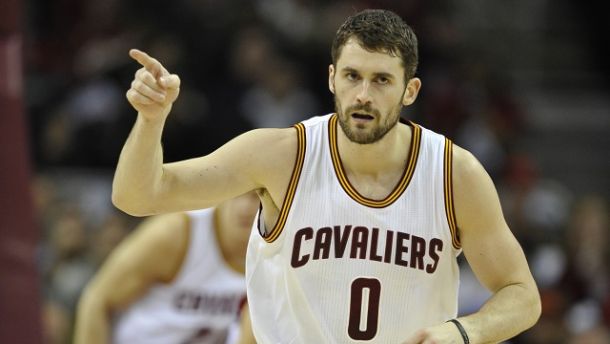 For the first time since his season-ending shoulder injury, Kevin Love addressed the media, and he had rather fascinating things to say about his future.
For the past couple of months, it has been rumored that Love will opt out of his contract to test the free-agent market with belief that he will sign elsewhere, leaving Cleveland after just one season. However, Love shut down those rumors, at least for now.
"I truly expect to be suiting up for Game 1 [of next season]," Love said.
"For the Cavs?"
"Yes, sir," Love responded. "I still feel like I'm a big part of this."
Of course things can change from now until free agency, but Love's responses shouldn't be too shocking. Cleveland is in the finals with a chance to win a championship without him in the lineup. Why would he leave? Let's not forget that in his six-year career, Love never made it to the playoffs until now. Cleveland has given him everything he has wanted, and then some.
Rumors have suggested that he may head to Los Angeles or New York during the summer, but why settle for teams who are rebuilding when he is already on a team with plenty of talent?
Love's usage and numbers have dropped in Cleveland, but that's a sacrifice he has got to make on a winning team. Love still averaged 16.4 points and 9.7 rebounds per game this season. His field goal attempts dropped from 18.5 last season to 12.7 this season, but he has found ways to be productive.
Love has a $16.7 million player option remaining on his contract which he is still expected to opt out of, but his intention is to sign a long-term deal with the Cavaliers.
For now, Love and the Cavaliers are more focused on the 2015 NBA Finals and will worry about free agency when it begins on July 1st.