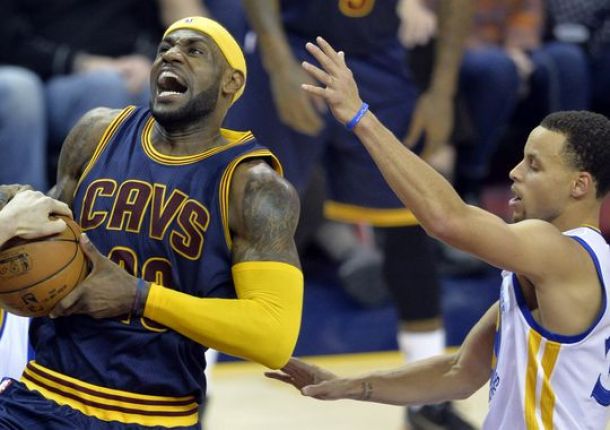 The Conference Finals have concluded, and we are down to two teams, the Golden State Warriors and Cleveland Cavaliers. There can only be one winner. Which team will take home the Larry O'Brien Trophy?
1. Golden State Warriors - 2. Cleveland Cavaliers: WARRIORS in 6.
The Cleveland Cavaliers dominated the Eastern Conference with their tenacious defense to get this far, but coming out of the tough Western Conference, the Golden State Warriors are a completely different beast. The Warriors are a potent offensive team and are just as good on defense.
First and foremost, the Warriors have a handful of defenders to throw on LeBron James. From all the Eastern Conference teams that James played against, they only had one good defender to throw at him. The Warriors have four – Harrison Barnes, Draymond Green, Andre Iguodala, and Klay Thompson. Having four terrific perimeter defenders is a luxury, especially in pick and roll situations as Golden State can simply switch on the picks.
On the other side of the ball, the Cavaliers may have a tough time matching up, especially since Kyrie Irving is still not 100 percent healthy. On Sunday, coach David Blatt told reporters that Irving's knee is still bothering him, which is not a good sign. With that being said, who does Irving defend? He takes on Stephen Curry; he is going to get torched. He guards Klay Thompson; he will get hammered. He defends Harrison Barnes; he will be taken advantage of due to lack of size. Perhaps coach Blatt may have to go with the scrappy Matthew Dellavedova more often in this series.
The Warriors are a very versatile team. They can play a big lineup if needed or downsize to matchup better. This is all possible due to Draymond Green's ability to defend multiple positions. So say the Cavaliers downsize and play Tristan Thompson at the five with four shooters surrounding him, the Warriors can easily matchup by shifting Green to the five as well and placing four perimeter defenders around him. If Cleveland is going to have Timofey Mozgov play the five position a whole lot, the Warriors will counter with Andrew Bogut, who is Golden State's defensive anchor, or they can still stay with Green at center and shift Barnes to the four.
The one area where the Warriors have a huge advantage is bench depth. Steve Kerr can utilize at least nine or 10 players off his bench. If Marreese Speights is healthy enough for this series, he can even go 11 deep. The Cavaliers, however, have been going eight deep throughout the playoffs, meaning their starters will continue to play enormous minutes and fatigue could haunt them late in games. The Warriors bench is simply more talented, versatile, and deep, making it complicated for Cleveland's bench to match.
The Cavaliers do have the Warriors beat in one category, and that is experience. LeBron James' leadership throughout these playoffs has been stellar. This is James' fifth consecutive finals appearance, so he's been here many times before and has two championship rings under his belt. He's faced adversity plenty of times and knows how to fight through it. Also, Kendrick Perkins and James Jones have had a taste of the NBA Finals many times before. Meanwhile, for the Warriors, no one has had any Finals experience. This will be the first appearance for everyone on their roster. That could be troubling, but they hope that their talent will be enough to make up for the lack of experience.
It will certainly be a thrilling series, but the Cavaliers will need a healthy Kyrie Irving in this one. They cannot get away with him playing 50 or 60 percent. They need him at 100 percent. If he is not 100 percent healthy, the question is can LeBron James shoulder the weight and singlehandedly lead his team to another series win? There is a slight possibility, but it will not be easy against a Western Conference powerhouse.