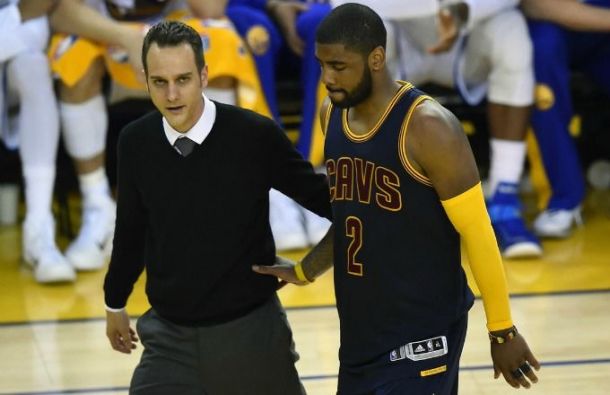 Before Game 1 of the NBA Finals, most of the media, fans, and NBA personals around the world had the Cleveland Cavaliers as the underdogs in the series. After Kyrie Irving's knee injury, many people are now completely counting out the Cavs and believe that this will be a short series.
Don't tell that to the Cavaliers, though. Despite losing their second best scorer, Cleveland's players remain confident and have a lot of trust in their Australian point guard, Matthew Dellavedova.
Cleveland was in a similar situation when they faced the Atlanta Hawks during the Eastern Conference Finals. The team played two games without Irving and won both games handily.
Of course the Warriors are much tougher, but the Cavaliers still believe in themselves, as they should.
"Delly's ready for whatever is thrown at him," Iman Shumpert said. "He showed that throughout the past few series', and we got a ton of confidence in him and we know he'll be ready to go for Game 2."
Dellavedova has certainly made a name for himself throughout these playoffs with his pesky defense and timely three-point shots. Aside from his stellar play, LeBron James' leadership has also helped this team get through adversity. As long as James is on the floor, there is always a chance for the Cavs, right?
James scored 44 points in Game 1 and fired up 36 shots. He was aggressively posting up and taking it to the basket at will. Will we see an even more aggressive James with Irving out?
"Well, if I get more aggressive than 36 shots, I might have about 58 of them things tomorrow night," James joked. "I don't know how much more aggressive you want me to get at this point."
Shumpert had a similar response when asked if others will need to be more aggressive.
"No, I think those opportunities present themselves even when Kyrie is in the game," said Shumpert. "Kyrie being out doesn't mean anybody's going to drive more than they would. It's whatever the defense does. Defense closes out short, you shoot it. If defense comes and tries to run you off the three, you drive it."
That's the type of basketball the Cavaliers played in Games 1 and 2 without Irving against the Hawks. Both Shumpert and J.R. Smith were catalysts in those wins, and both understand what it will take.
On the other hand, James has shouldered the weight for this team throughout these playoffs. He nearly averaged a triple-double against Atlanta, and he does not mind being the underdogs or being completely written off in these Finals.
"Understand that we was the underdog coming into the series, and with Kyrie being out people are writing us off," James said. "So, I mean that's fine. That's fine. I'm motivated to get our guys ready to go tomorrow, and we will be ready."
The difference with Irving being out now compared to the last series is that the Cavaliers know that he will be out for the remainder of the series. That does change things a little for Cleveland, because they know they cannot rely on Irving anymore. He is lost for the season, and guys will have to be better prepared mentally.
James fully understands the situation, but he has trust in his teammates.
"It's a tough pill to swallow," he said. "Obviously, we've been in this situation, but we always knew at some point he'll come back. Knowing that he's out for the rest of The Finals and out for a period of a long time, first of all, it sucks for him personally. It's a huge blow for our team, especially at this stage. Guys will have to pick up in his absence."
The one problem the Cavaliers will face is their bench becoming thinner. With Dellavedova being inserted into the starting lineup, the Cavs will lack more depth.
"It's the next man up," James said.
The Cavaliers' bench was, however, outscored 34-9 in Game 1, with all nine points coming from J.R. Smith. Taking away Dellavedova from that unit either means guys will see heavy minutes or we may see coach David Blatt dig deeper into his bench and play guys who haven't seen much action during the postseason.
Either way, Cleveland's bench will need to be more effective for the team to have a chance against a much deeper Warriors bench.
"I think we have to move the ball more," Smith said of the bench unit. "Give everybody a more rounded opportunity to make plays because once you lock in to myself or LeBron, Kyrie or whoever, we become limited and that's not the type of team we are."
Whether it's been a lack of bench depth, guys having to play big minutes, or multiple injuries, the Cavaliers have ultimately made it this far. They trust in their defensive schemes and believe in James' leadership.
"We know how good they are, but we still like our matchup," Shumpert said. "We gotta come out here and try to be successful in Game 2.
You don't stop. You still got to get to the goal."
That goal is merely four wins away for the Cleveland Cavaliers, but they will have to prevent the Warriors from winning three more.
Nothing is impossible when you have King James on your team. The Cavaliers are not going to mentally melt down. They haven't before, so why start now?
Game 2 is on Sunday, June 7th, at 8 pm EST in Oakland. The Cavaliers will look to even up the series, while the Warriors will look to take a 2-0 commanding lead before heading to Cleveland.