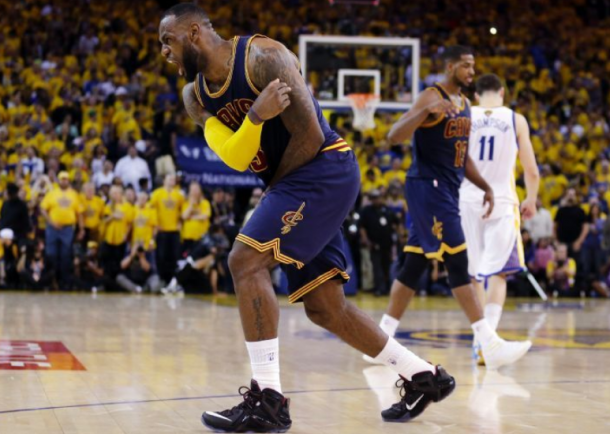 No Kyrie Irving, no Kevin Love, absolutely no problem for LeBron James and the Cleveland Cavaliers. Another extra session was needed, but this time, Cleveland came out on top to take Game 2 of the NBA Finals and steal home court advantage.
LeBron James followed the 44-point performance from Game 1 with a triple-double tonight. He was doing a little of everything, scoring 39 points, snatching 16 rebounds, and dishing out 11 assists in 50 minutes of action.
The Cavaliers came out of the gates a bit slow but imposed their will defensively to overcome Klay Thompson's 34 points. Thompson, unlike in Game 1, got off to a very quick start, scoring nine early points but picking up two first quarter fouls.
"I just let the offense come to me and tried to play as aggressive as I can," Thompson said of his performance. "But in the end, 34 points is meaningless."
The Cavaliers held Stephen Curry to only eight first half points. Curry finished the game with just 19 points on 5 of 23 shooting, as he struggled to find a way to score against Cleveland's pesky defense.
"I've got to play better, find better shots and be more in a rhythm throughout the course of the game for us to really assert ourselves as a team," Curry said of his poor shooting. "Klay did a great job of keeping us in it all night when our offense was struggling and we still had a chance to win.
So just got to play better, move past this game, and keep confidence."
The Warriors were only down two at halftime but fell behind by double–figures in the second half. With a little over three and a half to go in the fourth, Cleveland owned an 11-point advantage, but Golden State fought back.
With eight seconds remaining, Curry drove to the lane and hit a scoop layup to tie it at 87-all. LeBron James came up short on a driving layup at the buzzer, and the game headed to overtime for the second straight time in the NBA Finals.
In overtime, Matthew Dellavedova hustled and drew a loose-ball foul on Klay Thompson with 10 seconds remaining on the clock. He calmly knocked down two crucial free throws to give Cleveland a one-point lead and eventually the victory.
"He was very calm," James said of Dellavedova's free-throw shots. "So for us, for Delly to be able to crash in and get that and go up there and knock two free throws down, that was huge."
Without Irving, Cleveland relied heavily on their defense, and it paid dividends. They held Golden State to 39.8 percent shooting from the field and 22.9 percent from the three-point line.
"To hold Golden State under a hundred points or under 95 points, you're doing something on defense," coach David Blatt said of the defensive effort. "And our guys are really, really, really locked in and defending and making an effort and making multiple efforts on every single play.
And that is the only way to play against the Warriors, because they're so potent offensively and they can put up points so quickly and in a multitude of ways that you have no choice but to be aware or get beat."
Cleveland didn't shoot too well either, hitting 32.2 percent of their shots, but they got enough stops and frustrated the Warriors in the process.
With Irving out, Timofey Mozgov was the second leading scorer for the Cavs, finishing with a double-double of 17 points and 11 rebounds. Mozgov was aggressive near the rim, earning 12 trips to the free-throw line and knocking down seven.
Bench play was much better for Cleveland, as they outscored Golden State's bench, 21-17. Coach Blatt went to a seven-man rotation but still got production out of his thin bench.
For the Cavaliers, they picked up their first victory of the NBA Finals in franchise history.
"It means everything," James said of the accomplishment. "It means everything to be able to be a part of his and to get this win for this franchise, for our city, for all Cavs fans all over the world."
The Cavaliers have knotted the series at one, heading to the Quicken Loans Arena with home court advantage and a ton of momentum.
"I think we're still confident. We still believe that we're going to win this series," Curry said.
Curry and the Warriors' chance to get revenge will come on Tuesday, June 9th, at 9 pm EST in Cleveland.