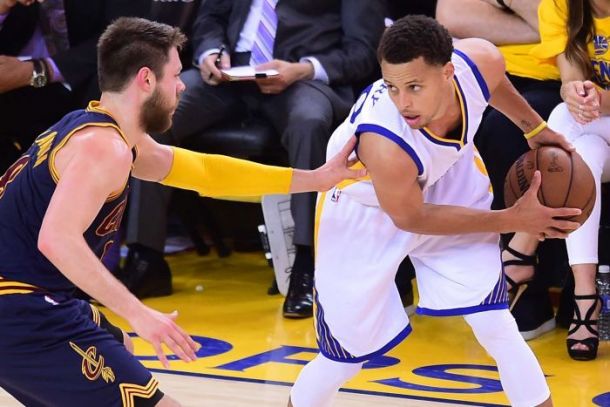 Matthew Dellavedova was pivotal in the Cleveland Cavaliers surprising win over the Golden State Warriors in Oakland on Sunday night.
After a record-breaking game from LeBron James in Game 1 and the loss of Kyrie Irving for the remainder of the series, the Cavs starting point guard for Game 2 was an Australian from the small town of Maryborough in rural Victoria.
The matchup was always going to be tough for Dellavedova coming up against one of the greatest perimeter shooters in Stephen Curry. With true grit and determination, Dellavedova performed a remarkable defensive effort against Curry, forcing him to shoot 5 of 23 from the field, including only two made three-point shots from 15 attempts.
"Definitely wanted to make it as hard as possible for him" said Dellavedova when asked about the matchup with Curry.
Defensively, Dellavedova acknowledged that it was not just a single effort on his behalf, but a more team focused "cover" that stopped Curry shooting so well.
Very modest indeed, for he knows the same effort and pressure will be required in Game 3 for the Cavs to take a 2-1 series lead.
The two clutch free throws and defensive rebounds when the game was on the line will go down as game changing. Contesting the shot that would have made Curry the hero was an almighty effort in the dying stages.
Cleveland fans love Dellavedova. If fans in Australia haven't jumped on the Dellavedova bandwagon, they will now.