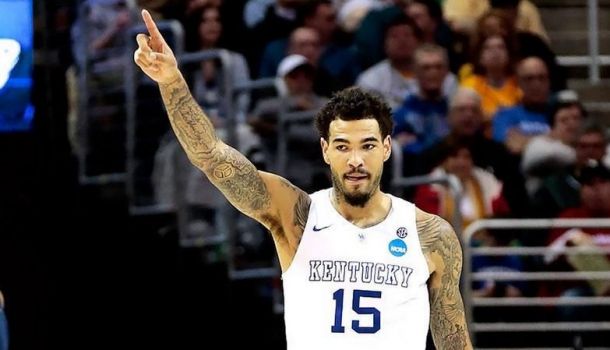 Willie Cauley-Stein just finished up his third year at Kentucky, and while the big man and his Wildcats fell just short of making the National Title game, Cauley-Stein finds himself ready to make the next step and head to the NBA.
Cauley-Stein stands at an even seven feet and a wingspan of 7'2" with a reach of 9'2". He averaged nine points and six rebounds for the Wildcats this season. He's sure to go in the top-10 during the 2015 NBA draft, but where could he end up?
Denver Nuggets
Cauley-Stein reportedly worked out for the Nuggets this past week and would help them in the middle after trading away big man Timofey Mozgov to the Cavaliers earlier in the season. With a faster pace of play, the Nuggets could get back to being a competitive team in the West. With Ty Lawson and Kenneth Faried by his side, Cauley-Stein could help this Nuggets team climb the ranks.
New York Knicks
The Knicks were dissappointed when they landed the fourth overall pick, but they might benefit from it. While Jahlil Okafor and Karl Anthony-Towns would be gone, plenty of great players will still be available. Duke's Justise Winslow is projected as going to New York, but the Knicks could ditch that idea and draft down, picking up Cauley-Stein instead. A big man is one of the most important pieces of a team, and Cauley-Stein could jump start the Knicks by giving them a solid middle piece to work with for the future.
Sacramento Kings
There have been rumors upon rumors about DeMarcus Cousins being on the trade block. The big man could end up staying in a Kings uniform and Cauley-Stein would benefit, learning from him and becoming a stellar backup. The draft is about taking the best available player. However, if Cauley-Stein is picked up by the Kings, expect the trade rumors about Cousins to double.
Boston Celtics
Yes, Boston's pick isn't until number 16, but never count out Danny Ainge and his front office. The C's have had a need for a center since they traded away Kendrick Perkins. If Boston swipes picks and ends up in the top-10, expect Cauley-Stein to be the man drafted. With Avery Bradley, Marcus Smart and Jared Sullinger, Cauley-Stein can provide a solid center presence and help be part of an overachieving young basketball club.