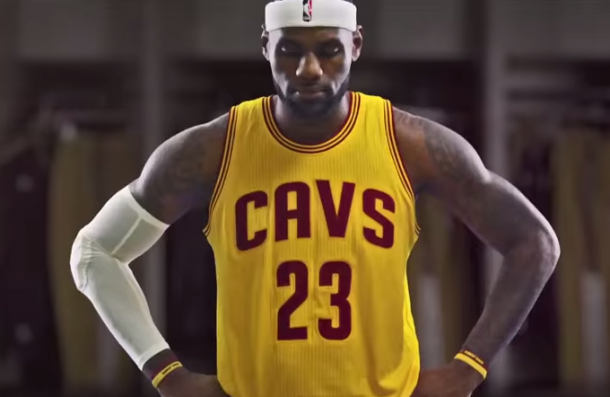 He's not on Michael Jordan's level, Kobe Bryant was more of an assassin, LeBron isn't clutch enough. These are all statements LeBron James has heard and have had to take every since his first NBA Finals appearance in 2007. Now LeBron James and the Cleveland Cavaliers are halfway to their first title, and cementing not only LeBron James' greatest accomplishment but perhaps one of the most memorable feats in NBA Finals history by a single superstar.
There have been many NBA superstars to hoist the Larry O'Brien trophy over the last few decades, most recently superstars such as Tim Duncan, Dwayne Wade, Kobe Bryant, Dirk Nowitzki, Kevin Garnett, Ray Allen, Paul Pierce and yes even LeBron James.
Some can argue that these other stars had better supporting casts.
Tim Duncan had Tony Parker, Manu Ginobili and Kawhi Leonard to go along with one of the all-time great head coaches in Greg Poppovich. LeBron James of course had Dwayne Wade, Chris Bosh and sharpshooter Ray Allen. Dirk Nowitzki had future hall of famer and all-time great point guard Jason Kidd, although past his prime, and a predominately great sixth man in Jason Terry. Kobe Bryant had Pau Gasol for his last two rings and of course Shaquille O'Neal for his first three championships. The Boston Celtics had the big three, Kevin Garnett, Ray Allen and Paul Pierce all still in their respective primes.
The Lakers and Celtics of the 80s had not just Magic Johnson and Larry Bird but fellow hall of famers such as Kevin McHale, James Worthy, Robert Parish and Kareem Abdul-Jabbar. Michael Jordan was by many the greatest player to ever play the game of basketball but even he had Scottie Pippen for all 6 championship as well as Phil Jackson as his head coach.
Point is that all of these superstars had good to great players around them to help them in their quest for a championship ring. The Detroit Pistons in 2004 didn't have a so called 'superstar' but they had a collection of very good players with a couple of All-Stars on their squad.
LeBron James has lost his best two players after him, Kyrie Irving and Kevin Love, two respective All-Star players in their own rights who are capable of creating their own shot. The second best player for the Cleveland Cavaliers is arguably Tristan Thompson or Matthew Dellavedova and that speaks volume to the amount of load LeBron James has had to carry.
Matthew Dellavedova and Tristan Thompson are good players and very solid role players but to imagine one of those players being the second best player on a potential championship team raises more than a couple of eyebrows.
The Cavaliers have had to endure injury after injury and there was a slight scare in the second quarter of Game 3 where it seemed like Iman Shumpert might have been the next victim when he went down with a shoulder injury. He was, however, able to return to the game but then after the game Matthew Dellavedova had to be taken to the hospital because of severe cramping and fatigue.
LeBron James also has an NBA rookie head coach in David Blatt that was a very well accomplished head coach in Europe but has had to learn the ropes of the NBA on his way to his first NBA Finals in his first NBA season.
LeBron James is having a historic playoff series. not just Finals, for the record books. LeBron has now scored, assisted or created 200 of the Cavaliers' 291 points through the first three games of this series, according to Synergy Sports. He's also playing 47.4 minutes per game and has a usage rate of 42.4, a number no player has ever hit in the playoffs or regular season.
Yeah, the efficiency hasn't been there -- LeBron has now taken 117 shots in this series and has hit just 37 percent of them -- but to focus on the misses would be like pointing out a grey hair on an otherwise perfect head of hair. James is looking to accomplish something that the NBA viewing audience has never quite seen before. Cleveland winning the title this season would be like Allen Iverson knocking off the Lakers while playing with the likes of Eric Snow and Aaron Mckie. It would be unprecedented.
LeBron James is averaging 41 points, 12 rebounds and 8.3 assists in this series and is leading his team both on and off the court. And this is against a historic regular season team in the Golden State Warriors that many were calling one of the best teams ever if they were to win it all. A team that has the reining MVP and roster that can go 10 players deep. The Warriors weren't only known as a great offensive team but they were one of the best defensive teams all year long as well and have failed in finding any answer for the 'best player in the world' LeBron James.
James has mentioned he has a secret motivation for these NBA Finals and maybe it all the naysayers criticizing him because he's not as 'clutch' as Michael Jordan or Kobe Bryant are known to have been. But LeBron is proving that he's his own player and there's a beauty and greatness to how he himself plays the game of basketball.
He's directed all attention of this series to him and allowed the role players on his team to just go out there and play knowing they have their leader out on the court to fall back on.
This series is by no means over as a 2-1 series doesn't guarantee anything. Sure, 84% of teams that were tied 1-1 and went on to win Game 3 have gone on to win the series and the championship but LeBron James has been on the other end of that 16% that doesn't win the title, case in point 2011 against the Dallas Mavericks.
Regardless of the outcome LeBron James' greatness can't be denied but if he and the Cavaliers were to somehow pull off this Finals victory, boy wouldn't it be something special.