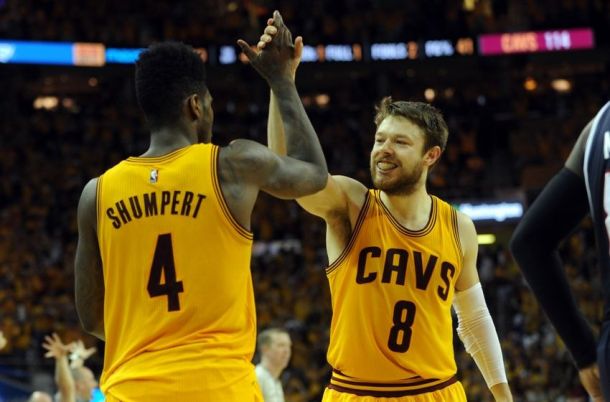 Following Cleveland's Game 3 victory over the Golden State Warriors, Matthew Dellavedova was hospitalized due to severe cramps. He was given an IV and spent the night at the Cleveland Clinic.
On Wednesday afternoon, the Cavaliers announced that Dellavedova was suffering from fatigue and dehydration but is expected to play in Game 4 as the Aussie guard is feeling "much better" after receiving treatment. However, coach David Blatt will limit Dellavedova's minutes to avoid any further fatigue issues.
Meanwhile, Iman Shumpert is also expected to play after hurting his shoulder early in Game 3. Shumpert's shoulder was crushed by a hard screen set by Draymond Green.
Shumpert immediately ran to the locker room after the incident and did not return for a while. Afterward, he returned to the Cavs bench and eventually played. He did, however, hurt his shoulder again later in the game but played through it.
Fortunately for the shorthanded Cavaliers, both Shumpert and Dellavedova will be alright moving forward. Both players have been a key part to Cleveland's defensive success against the Warriors and will continue to be.
The Cavaliers are up 2-1 in the NBA Finals, and Game 4 will take place on Thursday, June 11th, at 9 pm EST in Cleveland.