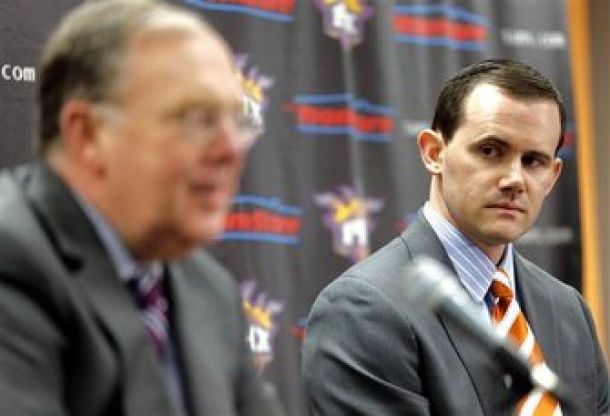 The Phoenix Suns announced Wednesday morning that Lon Babby, former President and head of all basketball operations, has taken a reduced role with the front office and is now the Senior Advisor for the team. General Manager Ryan McDonough will fill in for Lon Babby as the new head of basketball operations for the Suns, while also maintaining his General Manager status. This will be effective starting August 1st, 2015.
Quote from Lon Babby per NBA.com:
"I am grateful that Robert has accommodated my wish to reduce my work load, while remaining a vital part of the Suns organization. At this stage of my career, I welcome the flexibility that comes with this new role, a flexibility that will enable me to do other things that are important to me both personally and in the community."
Lon Babby was given the role of President in 2010, and it was his own request to step down after five years. The man filling in, McDonough, has had his hands full in his short tenure with the Suns. He was brought along with head coach Jeff Hornacek in 2013. In two years as general manager, here is a list of McDonough's biggest moves:
- Jared Dudley & Phoenix Suns 2nd round pick for Eric Bledsoe
- Luis Scola for Gerald Green, Miles Plumlee, Indiana Pacers 1st round pick
- Marcin Gortat for Washington Wizards 1st round pick
- Goran Dragic for Danny Granger, two future Miami Heat 1st round picks
- Two 2nd round picks for Brandan Wright
- Isaiah Thomas for Cleveland Cavaliers 1st round pick
- Los Angeles Lakers 1st round pick, Miles Plumlee, Tyler Ennis for Brandon Knight
- Drafted Alex Len (5) Archie Goodwin (29) TJ Warren (14) Tyler Ennis (18) Bogdan Bogdanovic (27)
- Extended Morris Twins to a 4 year/52 million dollar "shared" contract
Based on the moves McDonough has reeled off as General Manager, the Suns look as if they made the right decision giving him an increased role in the front office. It will be interesting to see if this minor front-office tweak leads to anything else.