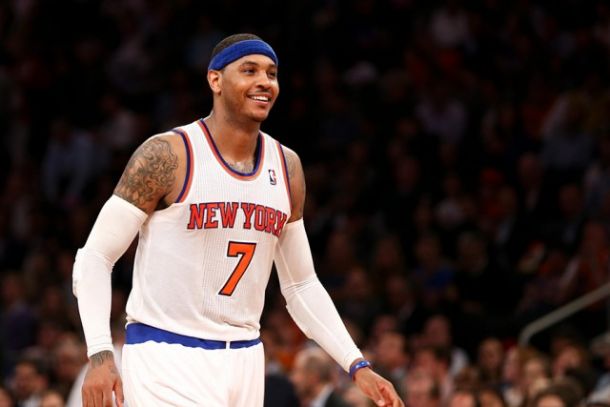 Carmelo Anthony has been full of surprises lately. Melo already made news today after he announced that he's partnering with Nickelodeon as the creative director for a line of Teenage Mutant Ninja Turtles products called Turtles By Melo. Following that announcement Anthony and soccer team Puerto Rico FC announced that the 31-year-old will be the side's owner. The team will be the 13th club to join the North American Soccer League, starting in the year 2016.
"My passion for soccer has always been there," Anthony said.
"I just always kept it to myself and among my circle. Going to games, sneaking into games and just watching and being around the sport over the years. The more time I started spending in Puerto Rico over the past six, seven years I realized that there was kind of a void down there on my island. The island didn't really have anything that they could kind of call their own, that they could represent not just on the island but from a global standpoint."
Anthony, who is of Puerto Rican descent, and also trains in the country during the offseason, said that he has been looking to bring a team to Puerto Rico for years. Anthony originally talked to the ownership of the Puerto Rican Islanders, who played in the NASL from 2011-12. Those discussions then led Anthony to seek ownership of Puerto Rico FC. Puerto Rico FC will play its home games at Juan Ramon Loubriel Stadium, a 12,500-seat venue outside of San Juan.
Anthony is probably happy to have a new project after having a tough season with the Knicks. Anthony appeared in just 40 games due to a left knee injury. However, Anthony insists that his new project will not distract him from basketball.
"Basketball is my No. 1 thing," Anthony said "I'm very hands-on but it's more about taking the time now during the offseason. I spend a lot of time in Puerto Rico training. I'll do like a mini-training camp down there. Right now it's about putting the right people in place so that when I'm back to my regular job, basketball is my main focus. I'll have a solid group of people running [Puerto Rico FC] on a day-to-day basis."