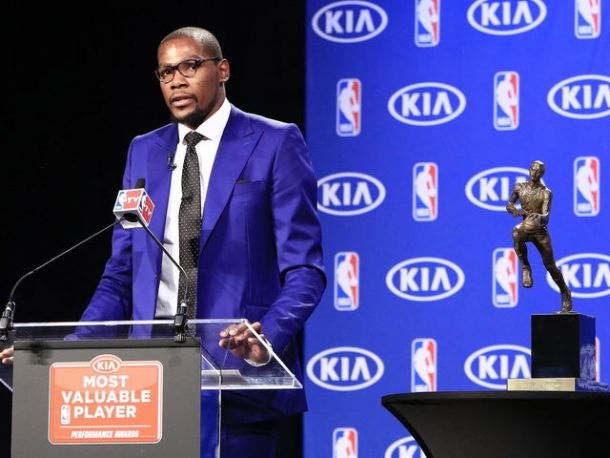 Kevin Durant has put Oklahoma on the map. In his six seasons with the OKC Thunder, KD has turned the Thunder into an elite NBA franchise, and made Oklahoma an attractive destination to players and fans. OKC even got into the NBA Finals in 2012!
Now, the state of Oklahoma is repaying Durant for the way he has performed off the court, as he has really done some great charity work, helped bring in tourism to the state, and also has probably brought some sports lovers to move to Oklahoma. It has been announced that in November, Kevin Durant will join the group of 2015 inductees to the 2015 Oklahoma Hall of Fame.
The list of other figures being inducted into the OK Hall of Fame includes eight total people, notably Hobart, Oklahoma native Bill Hancock, who is the executive director of the college football playoff. For a complete list of the inductees, click here.
Durant missed out on most of the 2014-2015 season, and that, coupled with loads of other OKC injuries, led to the absence of the Thunder in the playoffs for the first time in six seasons. Russell Westbrook did step up and become starpower material, nearly winning the 2015 NBA MVP Award. Or at least he would have been near had OKC not lost the tiebreaker for the eighth seed in the West to the NOLA Pelicans.
KD won MVP honors in 2014 after a year in which he averaged 32.0 points per game. He led the Thunder to a Western Conference Finals appearance, but again, couldn't carry OKC all the way to a championship. Imagine how much it would do for Oklahoma to have their lone professional sports team win a championship.
The Thunder go in to the 2015-2016 season with a new coaching staff headed by Billy Donovan. Durant will certainly have something to prove in his last year prior to free agency.