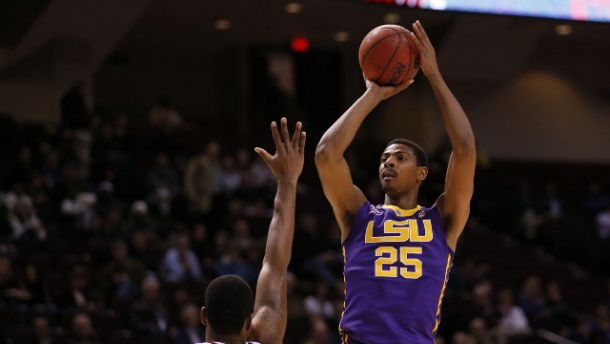 After taking two guards in the first round of the 2015 NBA Draft, the Boston Celtics took 6'8 forward Jordan Mickey out of LSU.
Mickey is 235 pounds, which makes him a pretty good size to play in the NBA. He'll have to put on another 25-30 pounds if he wants to bang in the paint, but as a rookie he comes in at a decent size. Mickey averaged 14 points per game for the Tigers, and added on four blocks. At 6'8, four blocks per game is outstanding, and makes the Celtics front court a little more dangerous, but definitely more athletic.
Mickey will join Kelly Olynyk, Tyler Zeller and Jared Sullinger in the Boston frontcourt as he works to crack into head coach Brad Stevens rotation. While he might be a little undersized, Mickey does bring a rim-protecting element which will do wonders for the Celtics on the defensive end of the court.
For his career at LSU, Mickey averaged 14 points and nine rebounds a game, making him a threat while he's in the game. If he can translate his game into the NBA and become a 20-10 guy, Boston may have just found themselves a gem in the second round. He shot under 70 percent from the free-throw line for his collegiate career, but he made up for that by averaging about a 52 percent clip from the field for the Tigers.
The Celtics are a young team and head coach Brad Stevens wants his club to run more, and by drafting Mickey the Celtics might have just gotten Marcus Smart a running mate who can finish. Boston has started to accumulate atheltic, young guys who can wear down defenses if they get out onto the break, and if If he can stick with Boston, Jordan Mickey could have a nice NBA career.