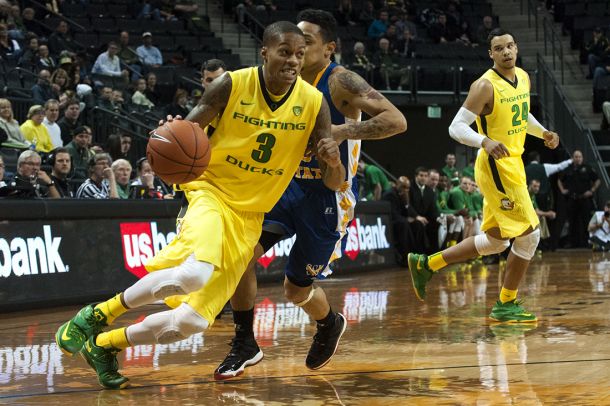 INDIANAPOLIS -- The Indiana Pacers selected Joseph Young out of the University of Oregon with the 43rd overall selection. Many were hoping that the team would select a Cliff Alexander, Aaron Harrison, or one of the other 'notable' players still left on the board. Joseph Young might not have been 'notable', but he was an absolute steal at 43rd overall. There were no players better than Young at the Pacers' second-round selection. In fact, Young should have been selected a lot sooner than what he was taken at.
Related: Grading The Indiana Pacers' 1st Round Selection
Joseph Young might receive a lot of minutes coming off the bench this upcoming season, but he could be developed into something special. Indiana has tremendous ability to develop prospects, and Young could be developed in a similar way that Lance Stephenson was developed. The beginning might be rough for Young, but he can eventually become a key contributor with dedication and hard work. Most likely his time will come in two-to-four years from now, but the wait will be more than worth it.
Indiana might not have any backup point guards on their roster at the current moment besides Joseph Young, but that will change after free agency. Indiana has a 'very good chance' of re-signing Donald Sloan for the backup point guard position. C.J. Watson 'will not be re-signed' by the Pacers, so Joseph Young could receive a third string role at point guard next season. The role is a fitting role for Young right now, but later on, he could see his role expanded. It is highly unlikely that Young will receive any projected minutes in his rookie season after the Pacers make moves in free agency.
The lack of early on minutes shouldn't upset Pacers fans. This was a project selection. Joseph Young proved to be one of the best scorers in the nation last season, and he just needs some development to let that translate to the next level. His defensive game will be an early on liability, which will really hurt his chances of receiving minutes. But good for Young, the Pacers are great at defensive and physical development, and his major weaknesses in those areas could be turned into strengths in the next few years.
When evaluating a team's selection, it is important to factor all of the following: strengths, weaknesses, potential, team track record for player development, immediate impact, future impact, personality, and fit with the team.
Analysis of Joseph Young's skill-set:
Scoring is certainly a strong suite of Joseph Young's. Creating off of the dribble is the first thing that comes to mind about Young's offensive game. He has great initial moves, as well as great counter moves, which leads to great shot opportunities from the perimeter, in mid-range, and at the rim. Not only does he create for himself off the dribble, his teammates benefit from his ball-handling creations in obvious open situations. He needs to work on his court vision when he is creating with his ball-handling ability, which is something that has been a focus for him. The work has paid off so far, but he needs to continue to work at it.
Young is a willing passer, but he is not a great passer. Those highlight reel passes that you would see from a Rajon Rondo would not come from Joseph Young. He does have a great ability to break down his defender off the dribble, then create shots for himself, but he doesn't necessarily have a great ability of creating for his teammates. However, he is a good passer and can make the basic-to-moderate level passes, such as post entry passes, hitting cutters, transition alley-oops, etc. Advanced passing ability and passing instincts are some areas that he can improve at.
Joseph Young has a wide arsenal of scoring tactics inside the paint, and he can make a pull-up jumper, splash a step-back jumper, knock down a turn-around jumper, put up a floater, or even attack with a basic post-game. But again, he needs to improve at passing from inside the paint, especially when the defense collapses on him. He's not bad at passing, but it's just that he isn't elite at that skill. Young is a great finisher near the hoop, as it was something he focused on proving in his senior year at Oregon.
As good as Joseph Young is with the ball in his hands, he's just as good with the ball out of his hands. Young's ability to move without the basketball is tremendous, which could really help him flourish with a traditional point guard alongside him. Young is great at using off-ball screens, losing his defender off the ball, timing his cuts effectively, and attacking the holes in the defense by cutting. His off-ball movement forces his defenders to stay tight on him, which allows for more space for his teammates to utilize. Young spaces the floor tremendously, and he even is a great spot-up shooter.
Joseph Young's half-court offensive game is impressive, but he is even better in transition. Not only can he finish in transition in a variety of ways, but he can facilitate in the fast break. Young makes smart decisions in the break, which will really help him in the Pacers' new up-tempo system. Having great teammates to run the break with will help as well, especially with teammates like Paul George, George Hill, C.J. Miles, and potentially even Rodney Stuckey if he decides to re-sign.
In terms of athleticism, Young doesn't have explosive or elite athleticism. However, he is an above average athlete for the point guard position. Young utilizes change of pace when moving without the ball, as well as when he is attacking off the dribble. He is a very shifty player that changes directions quickly, but his top speed and explosiveness aren't necessarily at the same level yet. Offensively his foot work is solid, but his defensive footwork needs improvement. Young's athleticism can be developed by the Pacers, which could really jump start his production with the team. Despite his lack of elite athleticism, Young is a good rebounder on both ends of the floor, even in traffic situations.
Defensively, Young showed that he can defend both point guards and shooting guards on and off the ball. He shows aggression and tenacity on both sides of the floor, which will help him earn early minutes. He might struggle early on defensively, but he has the makings to thrive with some improvement to his athleticism. His awareness is excellent, and he thrives in the following defensive areas: on-ball defense, defending passing lanes, contesting shots, help defense, weak side rotations, overall defensive rotations, transition defense, pick-and-roll defense, and even post defense against guards. His on-ball defense could be a weakness at the next level early on though, only if he faces a better athlete. It is clear to see why the Pacers liked Young defensively.
Joseph Young plays with no hesitation and doesn't question himself. He has a rare ability to not only get to the free-throw line, but to make almost every free throw that he takes. He absorbs contact well and thrives off of it. He might not be a 'high-flyer', above the rim player, but he can certainly get to the rim and score there. Not only that, but Young is a clutch player who isn't afraid of big moments. His competitive fire is tremendous, along with his work ethic. Young thrived as a volume shooter, which he won't be early on with the Pacers, but he could develop into a great one.
Joseph Young is a good shooter in certain areas, but his skills in other areas are unknown. Young is a known shooter off of the dribble and in the catch and shoot, but he rarely took shots off of screens. He is a high quality shooter with a hand in his face, which will help him at the next level. Indiana needs all of the shooting that they can get, and this could be his calling card for minutes in his rookie season.
Offensively, he might have been a play maker at Oregon, but defensively he was not. Joseph Young rarely got steals or blocks, which is a sign of a lack of explosiveness and elite quickness. However, Young did contest shots and play solid defense in team concepts. His individual on-ball defense wasn't a strength, but many link a lack of effort for the reasoning. Many believe he was playing to not get hurt this season, but that will change with playing under a coach like Vogel.
Joseph Young did show the ability to run the point, but he wasn't necessarily good at it. His best offensive position would be at an off-ball guard position where he can focus on moving without the ball and scoring. Running the pick-and-roll wasn't a great area of his game, but he was decent at it. Using on-ball screens was more of a tactic to create shot attempts for himself than it was to create for the screener. He has the capability of being a great pick-and-roll player, but he didn't necessarily want to hit the roll man at Oregon. He is more of a scorer, and he sees the floor well but sometimes chooses to try and score himself rather than passing to a teammate in some open circumstances.
With proper development, Joseph Young could blossom into a very special player. He has all of the offensive skills that you can ask for, and now he just needs to focus on his athleticism to improve his overall game. He knows how to play great defense, but the execution will come with improved explosiveness and lateral quickness. That's the unique part about Young's future, and his focus can be athleticism since he already has the offensive talent. That's very rare for a second-round prospect. Indiana has the supporting talent, the coaches, and development history to really help Joseph Young thrive, but it will take time. Athleticism is a time sensitive area to improve, so give him one-to-two years to get that done and he should be ready. It is a whole lot easier to develop a player that knows all of the ins and outs of defense, but just needs elite athleticism to be a defensive stud. The same goes for his offense. If he became more athletic, his existing skill would allow for him to be a major threat.
It will take one-to-two years before Joseph Young will be ready to receive major minutes, but he certainly was a steal at 43rd overall.
Grade: A+