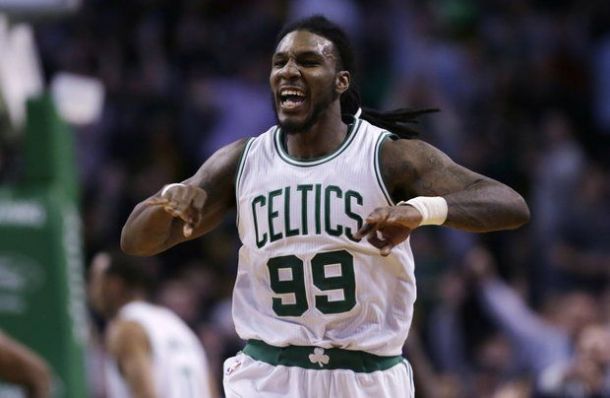 Jae Crowder had a surprising season for the Boston Celtics after coming over from the Dallas Mavericks. As part of the deal that sent guard Rajon Rondo to the Mavs, Crowder emerged as a key piece to a young Boston squad.
On Monday, the Boston Celtics extended a $1.2 million qualifying offer to Crowder, making him a restricted free-agent. The Celtics would love to retain Jae Crowder, and he has an opportunity to grow with this young team. Other teams will be looking for his services of course, as there are rumblings that his former employers the Dallas Mavericks will be looking to lure Crowder back.
In 57 games with Boston, Crowder averaged 9.5 points and 4.6 rebounds, all while playing stellar defense at the small forward spot. The green made a surprising run toward the playoffs and landed in that seventh spot, scheduling a matchup with the powerhouse Cleveland Cavaliers.
Unsurprisingly, Cleveland swept the Celtics in four games. However, Boston didn't make anything easy for the Cavs as a strong defensive tone was established thanks to Jae Crowder, who is a product of Marquette University and plays gritty defense. Crowder is emerging as a very good defender, all while maintaining a fearless attitude. While guarding LeBron James, Crowder did not hesitate and would get into James' face whenver he could, he would also try to make LeBron work for every bucket.
These attributes Crowder displayed against one of the greatest players in the NBA proves that he is ready to be a part of a team and contribute. While he needs work offensively (he only shot 28 percent from the three-point line this season), at 24-years old, there is plenty of room for improvement.
Crowder however, has shown signs that he has a solid offensive game. Against the Toronto Raptors toward the end of the season, Crowder hit a buzzer-beater from behind the three-point line to give the Celtics a win. His best game in the postseason came in Game 3 versus the Cavaliers when he logged 16 points, seven rebounds, four assists, two blocks and two steals. His development throughout the season was very apparent, and once seen as an afterthought to the Rondo trade, Crowder has become a pleasant surprise.
Free-Agency begins Wednesday at 12:01AM ET.