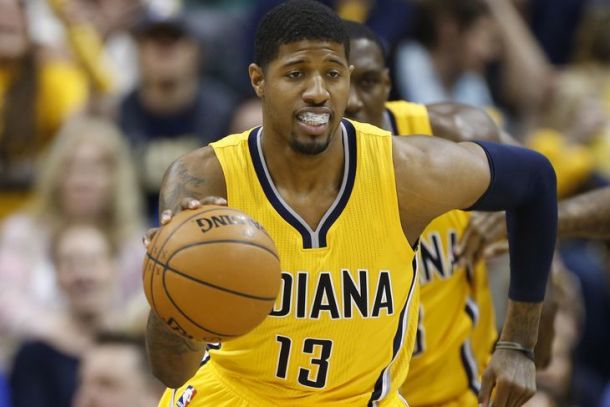 Paul George was set to be the steal of the draft last season, but an unfortunate Team USA injury sidelined him for all but six of Indiana's regular season games. He grew an incredible amount the previous seasons, increasing his points per game from 12.1 in 2011-2012, to 17.4 in 2012-2013, and finally 21.7 in 2013-2014. His leg injury proved to be a major setback since he only participated in six games and played an average of just 15.2 minutes.
However, it appears PG13 made a full recovery during the offseason and is back to his pre-injury form. While leg injuries are tricky and always have the possibility of returning, Paul George is a risky second-round pick for other reasons. If he performs as he did the year before the injury, than he's a great pick since he contributes to multiple categories. Not only can George score proficiently on 42 percent shooting, but he also nails an average of two to three three-pointers a night and grabs an upwards of seven rebounds. On top of that, George's lightning quick hands help add 1.9 steals a game to his stat line.
Why PG13 is risky is due to his disagreement with Indiana Pacers President Larry Bird. Bird has expressed interest in running George at the power forward position, but George is comfortable with playing small forward. At small forward, he can stay out of the paint where he's most efficient. At power forward, George's three-point attempts may drop, and consequently his point totals as well. It seems the position swap will be matchup dependent, since PG13 will normally be put on the opposing team's top offensive forward.
For the first time since his claim to fame three years ago, fantasy owners are questioning George's ability to stay healthy. He hasn't played every game of a season yet in his career, but the fractured right leg was his first major injury. There's always a possibility of another ailment stemming from the fractured leg, but he's not at a high risk for injury, compared to other top tier players who are constantly sidelined with the same nagging issues.
George's consistency is hard to determine considering he only played six games on limited minutes last season. Looking at his two best seasons, PG13 rarely had a terrible night. He had poor shooting games like everyone in the league, but those are coupled with games where he scores 30-plus points on 60 percent shooting. He's now the man in Indiana, and no one will compete with him for shots or minutes. George's position change could cause inconsistencies, but they'll most likely be fixed early on in the season.
Going back to his stats, George contributes to several categories like both percentages, three pointers, points, rebounds and steals. Like most forwards though, he lacks assists and blocks. A second-round small forward should provide numbers in every category, like LeBron James does. That's why Carmelo Anthony is so low on the mock draft, he can only score and rebound. George does rack up an average of four assists per game, but consequently he turns the ball over nearly three times a contest. These negative attributes force George out of the first round of the draft, but he definitely shouldn't fall below the second.
Durability: B-
Overall Stats: A-
Consistency: A
Mock Draft Ranking: #14