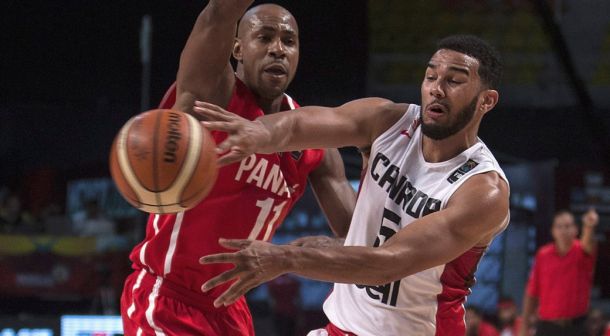 As expected, team Canada came, saw and conquered in a win over Panama in the second round of the FIBA Americas. Brady Heslip led the way for Canada, scoring a team-high 23 points in a blowout victory, 103-66 over Panama.
After Panama took a slight 10-8 lead mid-way through the first quarter, Canada fired back with a 12-0 run to end the first and never looked back. Panama was held scoreless for a seven-minute stretch and when they went to their aggressive nature to get out of their slump, Brady Heslip lit up.
It was one of those nights for Heslip, coming off the bench and knocking down five of his game-high seven three pointers in the second quarter to give Canada a commanding 42-23 lead heading into halftime.
"He just always has a flamethrower going." said Anthony Bennett.
While most viewers witnessed the breakout of Heslip, most were tuned in to get a glimpse of the rookie of the year sensation Andrew Wiggins. They definitely were delighted to get both. Wiggins had quite an impressive performance, putting up 19 points on 6-7 shooting in 18 minutes of play for team Canada. Wiggins delivered in the third quarter, scoring 17 of his 19 while sitting out the entire fourth quarter as Canada cruised to victory.
Canada is now 3-1 in the tournament with their sole lost to Argentina sitting second place in the standings. Mexico can redeem their second place seeding with a win tonight over Puerto Rico but tie with a loss.
Canada's next test is tomorrow night as they take on Uruguay for their fifth matchup. Take it all in at 6 pm Eastern Time.
Games remaining for Canada:
Opponent/Time/Date
- Uruguay/6:00 EST/07/09/15
- Mexico/8:30 EST/08/09/15
- Dominican Republic/2:30 EST/09/09/15