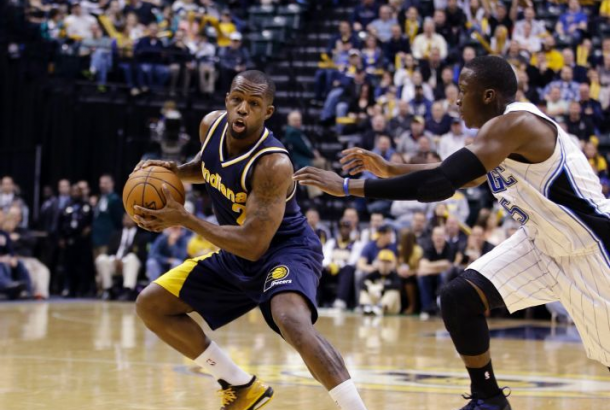 Final: Thanks for following! I'm Mathew Seremet signing off.
Final: Paul George only scores 13 on 4 for 14 shooting.
Final: Top scorers for each team: ORL - Victor Oladipo scored 15 points. IND - C.J. Miles and Glenn Robinson III each scored 14 points.
Final: Orlando - 92. Indiana - 97. Great preseason game from both teams, but Pacers come out on top.
Q4 (0:14): Joe Young's free throws seal the deal for Indiana!
Q4 (0:16): Nnanna Egwu makes two point shot. Indiana leads 95-92!
Q4 (0:23): After many missed opportunities, Orlando is forced to intentionally foul Glenn Robinson III.
Q4 (1:36): Glenn Robinson III responds with a three of his own! Back to a 4-point lead for Indiana.
Q4 (1:50): Shabazz Napier hits a triple! Now Indiana is clinging to only a 1-point lead.
Q4 (2:46): Nnanna Egwu goaltending violation on Jordan Hill's shot
Timeout Orlando.
Q4 (3:42): Jordan Hill gives Indiana a 2-point lead!
Q4 (4:11): Tie game! After Joe Young's and-one, we are all tied up at 87!
Q4 (4:33): Mario Hezonja hits close range shot.
Q4 (4:45): Elfrid Payton pulls down the rebound after Rakeem Christmas misses.
Q4 (5:43): Both teams trade 3's! Glenn Robinson III hits, then Shabazz Napier responds with one of his own!
Q4 (6:26): Jordan Hill and Joe Young enter the game.
Timeout Indiana.
Q4 (6:26): Oladipo with emphatic dunk as the Magic take a 1-point lead!
Q4 (6:31): Vucevic blocks Christmas's shot!
Q4 (6:54): Elfrid Payton gets his shot to fall. Now it's only a 1-point Indiana lead!
Q4 (7:26): Vucevic hits the jumper.
Q4 (7:46): Shayne Whittington offensive foul.
Q4 (8:15): Rakeem Christmas hits the and-one as soon as he checks into the game!
Q4 (8:36): Rakeem Christmas and Glenn Robinson III check into the game.
OFFICIAL TIMEOUT. Pacers up 78-76.
Q4 (8:36): Elfrid Payton bad pass, which leads to a turnover.
Q4 (9:37): Stuckey hits his jumper.
Q4 (10:36): Myles Turner with a great dunk with the help of Rodney Stuckey!
Q4 (10:53): Oladipo for 3! Magic regain the lead.
Q4 (11:15): Vucevic gets his shot to go down.
Q4 (11:38): Myles Turner misses jumper.
End of 3rd Quarter! Indiana leads 74-71.
Q3 (0:01): Tobias Harris hits a last-second shot!
Q3 (0:22): Mario Hezonja fouls Rodney Stuckey. Stuckey hits both free throws.
Q3 (0:45): Lavoy Allen hits the shot, assist by Joe Young.
Timeout (20 sec.) Indiana.
Q3 (1:25): Mario Hezonja hits a jumper.
Q3 (2:05): C.J. Fair checks into the game!
Q3 (2:14): Devyn Marble misses 3-pointer.
Q3 (2:31): Paul George doing an excellent job getting to the line. He hits two free throws.
Timeout Orlando.
Q3 (3:04): Mario Hezonja fouls Paul George. George hits 1 of 2, but gives Indiana a one-point lead!
Q3 (4:07): Monta Ellis hits a pretty layup to tie the game at 67 apiece!
Q3 (4:48): Magic respong with back-to-back threes themselves! First by Devyn Marble, next by Mario Hezonja!
Q3 (5:46): Back-to-back threes for the Pacers! First by Paul George, next by Glenn Robinson III.
Q3 (6:33): Dewayne Dedmon, Shabazz Napier, Mario Hezonja, and Devyn Marble check into the game.
Timeout Indiana.
Q3 (6:33): Vucevic responds with a a layup assisted by Oladipo.
Q3 (6:58): C.J. Miles hits a triple to bring the Magic lead down to 2!
Q3 (8:22): Tobias Harris misses his first shot of the game.
Q3 (8:44): Mahimni gets the shot after Paul George assists.
Q3 (9:41): C.J. Miles with a steal.
Q3 (10:25): Mahimni is fouled and can't hit either free throw. That is his biggest issue as a center.
Q3 (10:36): Fournier can't start as hot as he did in 1st half. He misses 3-pointer.
Q3 (11:30): Oladipo blocks Robinson III's shot, but Paul George cleans it up with a layup.
Q3 (11:37): Monta Ellis gets the steal!
HALFTIME: Monta Ellis leads all scorers with 10 points on 2 for 5 shooting. Wow, does he know how to get to the line.
HALFTIME: Very balanced scoring game so far. Tobias Harris is 4/4 from the field with 8 points.
HALFTIME: Pacers end 2nd quarter on a 7-0 run.
HALFTIME: Magic go into the break with a 55-47 advantage, thanks to 9 points from Fournier.
Q2 (0:43): Monta Ellis goes 2 for 2 at the line after getting fouled by Victor Oladipo.
Q2 (0:55): Monta Ellis gets the layup.
Q2 (1:20): Vucevic starting to cool down a little bit.
Q2 (1:55): After Paul George hit the technical free throw, Jordan Hill hits a layup.
Q2 (2:00): Timeout Indiana. Magic up 55-40.
Q2 (2:20): Magic are heating up! Evan Fournier hits another three.
Q2 (3:04): Paul George gets an and-one opportunity, but can't hit the free throw.
Q2 (3:04): Both teams hit 2 baskets qucikly. Offense seems to be coming back.
Q2 (3:55): Tobias Harris hits again, this time assisted by Payton.
Q2 (4:07): Paul George and Glen Robinson III are back in.
Q2 (4:46): Tobias Harris hits a layup, assisted by Nikola Vucevic.
Q2 (5:22): Ian Mahimni comes back in, replacing Lavoy Allen.
Q2 (5:22): Elfrid Payton hits another layup! Magic now lead it 45-34. 20 sec. timeout Pacers.
Q2 (6:50): That's a three-second violation on Oladipo and Joe Young hits the free throw
Q2 (7:43): Evan Fournier hits a three and extends Magic lead to 8!
Q2 (7:54): Jordan Hill gets on the board with his first basket.
Q2 (8:27): C.J. Miles grabs the rebound on Evan Fournier's missed shot.
Q2 (9:10): Shabazz Napier leads all scorers so far with 7 points. He also has 3 rebounds and 1 steal.
Q2 (9:10): Oladipo from deep! Timeout Pacers. Magic lead 35-31.
Q2 (9:51): C.J. Miles misses two in a row.
Q2 (10:48) Devyn Marble impressive thus far. Hits layup then a jumper right after.
Q2 (11:03): Myles Turner for 3! He will be a lot of fun to watch this season.
Q2 (11:26): Joe Young with not one but TWO offensive rebounds in a row!
Q2 (11:48): Devyn Marble hits 1 of 2 after fouled by C.J. Miles.
END OF 1st QUARTER: Magic 24. Pacers 27.
Q1 (0:00): Myles Turner hits jumper as time expires.
Q1 (1:15): That's a triple from Pacers' rookie Joe Young!
Q1 (2:00): Dewayne Dedmon with the dunk!
Q1 (2:14): Balanced scoring coming from Pacers, three players with 6. While for the Magic, Vucevic is leading for Magic with 6 points.
Q1 (2:14): Paul George hits jumper, Magic call timeout. Pacers up 22-17.
Q1 (3:30): Ellis fouled again on the drive, hits 1 of 2.
Q1 (3:51) Dewayne Dedmon doing solid so far. Hits the shot assisted by Devyn Marble
Q1 (4:05): Paul George struggling a little bit in this one, misses three point shot
Q1 (4:41): Ian Mahimni throws it down on the great pass by Monta Ellis!
Q1 (4:56): Andrew Nicholson from three to bring Pacers lead to only 2.
Q1 (5:28): Lavoy Allen checks in to the game. Enters for C.J. Miles
Q1 (5:28): Pacers once again draw the foul. This time it'll be Glenn Robinson III at the line.
Q1 (5:52) C.J. Miles hits 1 of 2 at the line for Indiana.
Q1 (5:52): Timeout Indiana. They lead it 14-12!
Q1 (6:09): Oladipo hits the layup.
Q1 (6:39): Ellis hits 2-point shot
Q1 (6:52): Vucevic blocks Paul George's shot!
Q1 (7:47): Vucevic working the paint wonderfully so far. Hits another layup.
Q1 (8:52): Vucevic with another offensive rebound and putback.
Q1 (9:08): Ellis with another bad pass for a turnover.
Q1 (9:12): Paul George draws the foul.
Q1 (9:18): Ian Mahimni doing a great job on the rebounds so far.
Q1 (9:18): Oladipo with a missed shot.
Q1 (9:42): C.J. Miles hits a jumper on an assist by Ellis!
Q1 (10:00): Elfrid Payton with the and-one! Fouled by George and hits the free throw.
Q1 (10:07): C.J. Miles for three!
Q1 (11:06): Monta Ellis fouled, makes both free throws to tie it up at 2-a-piece.
Q1 (11:18): Vucevic with a miss, offensive rebound, and putback layup!
Q1 (12:00): And we are under way in Indianapolis!
Tipoff to begin very shortly!
Orlando Magic starters for tonight:
Evan Fournier
Tobias Harris
Nikola Vucevic
Victor Oladipo
Elfrid Payton
Indiana Pacers starters for tonight:
Monta Ellis
Glenn Robinson III
C.J. Miles
Paul George
Ian Mahimni
With George Hill out tonight, Frank Vogel says that he'll probably put Monta Ellis in at starting point guard, while also putting Glenn Robinson III in the starting lineup.
The most intriguing matchup in this game will come from the guards, as both of these teams are trying to push a faster pace. We will have to see how Joe Young, who will probably see a large increase in minutes this game, go against Elfrid Payton.
The Pacers will be without Solomon Hill (ankle), Chase Budinger (hamstring), Ian Mahimni (knee), and George Hill (ankle). The Magic will only be without Aaron Gordon (jaw).
The last time these two teams met was on March 10, 2015 in Indianapolis. The Pacers beat the Magic in a 118-86 rout. Rodney Stuckey scored 34 points in that win. However, both teams will look different, especially Indiana, who is still in the midst of the complete roster overhaul.
Orlando power forward Aaron Gordon will look to have a big year. He jumped from 219 to 129 in ESPN's #NBArank. He will not be available for this game, however, with a fractured jaw injury.
Orlando Magic power forward Channing Frye will have a bad mismatch against Paul George. This will give Indiana a good chance to see their fullest potential with small-ball. George was clarified that when taking on big power forwards, such as Zach Randolph, Tim Duncan, and Anthony Davis, the Pacers will have to play big and put Paul George back at the small forward position.
With the signing of undrafted power forward Kadeem Jack, a star at Rutgers, this could be the Pacers showing that they need a little more size in their bench. However, it is most likely that they are just taking advantage of their newly purchased Fort Wayne Mad Ants. The Pacers will use this D-League team to develop as many players with potential that they can.
Pacers' rookie Myles Turner had eight points and six rebounds in 15 minutes of play during the win against the Pistons. C.J. Miles has had a hard-working offseason and that shows through the first two preseason games, shooting 46 percent so far. With George Hill receiving an ankle sprain, this could be a chance for other Pacers guards, particularly rookie Joe Young, to step up and show their talent before the regular season starts.
One of the biggest questions surrounding this year is the health of Paul George as he returns from a near-season long injury from last season. Well, after a 115-112 win at Detroit, Paul George had 20 points in the first quarter after hitting six straight three-pointers, en route to a 32-point performance. Pacers fans can start cheering again that their superstar is back.
After a preseason debut loss versus the New Orleans Pelicans, Paul George stated clearly that he wasn't sure the power forward position was for him. Granted, it's a challenging first test because he was to cover Anthony Davis. Paul George later got clarification from Pacers' coach Frank Vogel and President Larry Bird on how they plan to use Paul George, and then all seemed fine.
The Indiana Pacers are a team to watch this year, with their roster going through a complete overhaul. The switch from old-school big-man ball to a more up-tempo small-ball raises questions, as Indiana has not really played much small-ball since Jamaal Tinsley was a part of the roster.
Magic Coach Scott Skiles has been very committed to gaining offense through emphasizing shootarounds during practice. Skiles will have to be patient with his very young team, but they have shown great potential in the preseason thus far. Magic point guard Payon stated that, "It all starts with me pushing the ball and if I push the pace, guys are going to run with me''.
Orlando is hoping to get valuable minutes out of Victor Oladipo, the Indianapolis native, and Elfrid Payton. Both of these guys are fundamental in the Magic's hope to play more up-tempo offense, similar to Indiana.
The Magic are in Indy a day after defeating the Miami Heat in Louisville, KY, thanks to a 3-pointer by Shabazz Napier. The Magic had an impressive showing from Nikola Vucevic with 17 points and eight rebounds. The Magic offense has been consistent versus Charlotte and Miami, scoring 100 points in both games and shooting 44 percent and 46 percent, respectively.
Today the Indiana Pacers return to Bankers Life Fieldhouse to take on the Orlando Magic. This is both teams' third preseason game. The Magic and the Pacers both come into this contest at 1-1 for the preseason. I'm Mathew Seremet and I'll be your LIVE game host this evening.