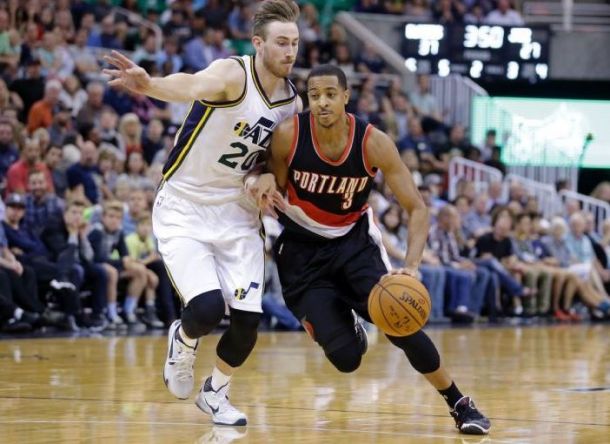 To close out their preseason schedule at home, the Portland Trail Blazers face the Utah Jazz for the second time. Both teams are 2-2, while Portland snagged the win in their previous matchup on Monday. They played without Damian Lillard, but starters C.J. McCollum, Meyers Leonard and Al-Farouq Aminu picked up the slack, leading to an 88-81 victory.
On Thursday, following his absence in the game versus Utah, Lillard announced he would play in the upcoming matchup. He has participated in several full practices since suffering the ankle injury, and confirmed, "I'm definitely playing Sunday."
With the preseason winding down, most playoff ready teams are sitting their stars earlier into the game. Portland, on the other hand, is continually allowing the top five to cash in over 30 minutes a contest. On Monday, Aminu saw 37 minutes of floor time, Crabbe 31, Leonard 30 and McCollum 33. The lone starter to see a minute restriction was Mason Plumlee, who played 25 minutes. These five, along with every player excluding Lillard, have something to prove before the season kicks off on October 28th, and what better time than preseason to strut their stuff.
The big test tonight is how Plumlee's defense will hold up against French big man Rudy Gobert. The conclusion of last year hosted a major breakout for Gobert after the exit of competing center Enes Kanter. Along with Derrick Favors, Utah's frontcourt has drastically improved on the offensive and defensive end. In their last matchup, both Gobert and Favors were limited to single digit points, but combined for 17 rebounds in 49 minutes of combined playing time. Meyers Leonard isn't particularly known for his defensive abilities, but keeping his matchup out of the paint allows Plumlee to take Gobert one on one. The Blazer frontcourt did a solid job in the paint on Monday, restricting the Jazz to 30 points, versus the 38 given up to Sacramento last Sunday.
Allen Crabbe and Pat Connaughton are still entrenched in the battle for more minutes and maybe a starting role, but neither impressed Monday. Crabbe played 31 minutes, but only scored seven points on 3 for 8 shooting. He nearly fouled out, and missed one of his two free-throw attempts. Pat Connaughton saw 17 minutes of floor time but didn't put the ball through the net once. He missed all five shots, grabbed five rebounds, while racking up four fouls in the process. These two along with Moe Harkless are deserving of the backup shooting guard role, but need to perform on a higher level to snatch the extra minutes from the others.
The battle for backup point guard rages on as well. Frazier played his turn of games on Monday, scoring five points and totaling two assists in 14 minutes of play. While C.J. McCollum has been named runner of the offense with Lillard off the floor, Frazier and Pressey are still fighting for those extra few minutes. It's Pressey's performance tonight, and he hopes to outdo his partner Tim Frazier.