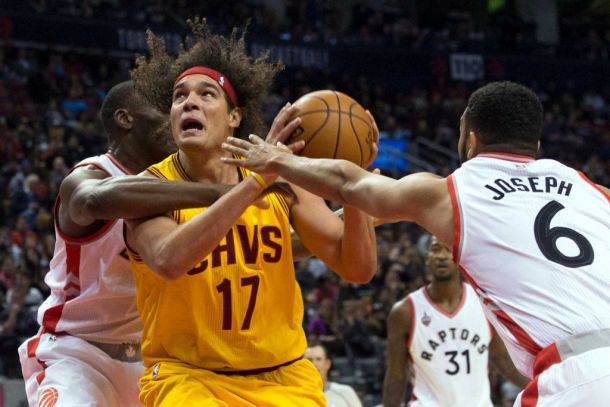 In a strong defensive performance by both teams, the Toronto Raptors pulled out their fourth preseason win on Sunday night at the Air Canada Centre. The Cleveland Cavaliers, on the other hand, were handed their sixth loss in as many games in exhibition play.
While there was no real standout in this one offensively, Cavalier guard Mo Williams led all scorers with 13 points on 6 of 11 shooting to go with seven rebounds. Big man Jonas Valanciunas was the top scorer for Toronto as he added 12 on and efficient 6 of 9 from the floor.
While LeBron James sat this one out, Kevin Love made his preseason debut for the Cavaliers, after injuring his shoulder early in last year's playoffs. Love struggled to find his groove in his first showing but was able to add six points for Cleveland.
Canadian point guard Cory Joseph may have been Toronto's best offensive player, scoring 11 points and adding six assists in 20 minutes of action off the bench. Joseph did an excellent job of using his quickness to get inside and create opportunities to kick it out for open looks as well as get to the rim.
Matthew Dellavedova had a nice game as well. The Australian started this game alongside Mo Williams in the backcourt and scored 12 points, including two three-pointers. Dellavedova also made an impact passing the ball, producing five assists for the Cavs.
As a result of Patrick Patterson's struggles as a starter throughout the preseason, the Raptors decided to insert Luis Scola into that starting power forward position. Scola seemed to fit in nicely, putting eight points on the board on 4 of 7 shooting while Patterson looked like he belonged a little bit more as a bench player than he did as a starter. Patterson only connected on two out of his five field goal attempts for five points, but the fact that he was able to get some quality looks (especially from three-point range) was a good sign for the Raptors.
Toronto's starting one, two, and three (Kyle Lowry, DeMar DeRozan, and DeMarre Carroll) struggled mightily. While Lowry has looked incredible so far this preseason, tonight's game did not reflect his previous performances. The three key pieces for the Raptors combined for an awful 7 of 33 (21%) from the floor. Luckily, Toronto's starting bigs and bench players had strong outings to make up for the poor performance by these three players.
Enough talk about offense, this game was all about defense. Both team's field goal percentages failed to exceed 40 percent, nor did either squad manage to shoot above 30 percent from deep. The defensive star of this game was Bismack Biyombo. The newly-signed center was protecting the rim very effectively for his Raptors. While the former Charlotte Hornet only recorded two blocks, he had many goaltending and shooting fouls called against him, many of which were close to being clean blocks. Biyombo's defensive presence was felt a lot more than it showed up in the stat sheet. Biyombo's rebounding did show on the stat sheet, however, as he recorded 10 boards. Biyombo even provided a little spark offensively, scoring eight points on five shots, which is usually the weakest component of his game.
Throughout the first three quarters, the two teams exchanged leads a few times and neither team was able to pull ahead and take control. Heading into the final quarter the Raptors were down by four, but early in the final frame Toronto finally broke the ice, putting together a big run that pulled them in front by 10 points. They never looked back from there as the Raptors won the fourth quarter 27-17 to win the game.
Both teams have one exhibition game remaining before opening night. The Cavs will look to close out the preseason on a good note on Monday night when they host the Dallas Mavericks at Quicken Loans Arena in Cleveland at 7 pm EST. As a part of the NBA Canada series, the Raptors will head to Montreal to take on the Washington Wizards at the Bell Centre on October 23 at 7:30 EST.